CoST Afghanistan has welcomed the Minister for Economy, HE Dr Karima Hamed Faryabi, as the new chair of its multi-stakeholder group (MSG). The MSG convened a meeting chaired by Dr Faryabi for the first time in November, during which she underscored the need for responsible institutions to promote transparency in the infrastructure sector, and the role of CoST Afghanistan's MSG in building these bodies.
New MSG chair brings diverse experience to guide CoST Afghanistan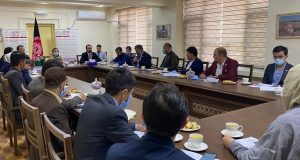 Dr Faryabi's career spans a diverse range of sectors including health, food security and education. Before embarking on a career in politics, she graduated with a medical degree and worked as a doctor at the Faryab Department of Public Health. Dr Faryabi played an active role in civil society in Faryab province, where she was born, sitting as a member of Faryab women's leadership committee and on the advisory board of the Directorate of Public Health.,
Dr Faryabi served at the Ministry of Rural Rehabilitation and Development for over seven years, coordinating development programmes in the north and north-eastern regions of Afghanistan. Her medical background has also seen her manage medical projects throughout the country, including most recently a programme providing medical services to internally displaced communities in Faryab.
Dr Faryabi said:
Achieving transparency and accountability in our infrastructure sector requires responsible and trustworthy entities and it is the mandate of CoST Afghanistan's MSG to institutionalise this
Multi-stakeholder working in Afghanistan
Multi-stakeholder working is a key tenet of the CoST approach. CoST Afghanistan's MSG brings together representatives from government, the private sector and civil society – from organisations including the National Procurement Authority and the Access to Information Commission – to guide the direction and implementation of the programme. This utilises the wide-ranging experience of MSG members and ensures the interests of all beneficiaries – citizens, government and private sector – are represented in CoST activities.
As CoST Afghanistan prepares to launch its Third Assurance Process, the MSG meeting centred around the 20 projects which will be subject to independent review – ensuring the validity and accuracy of project data disclosed. While praising the impact of CoST Afghanistan to date, Dr Faryabi pointed to the assurance report as a necessary tool to further bolster reform to the infrastructure sector. She gave the Ministry of Economy's full backing to the assurance process in order to advance these efforts.