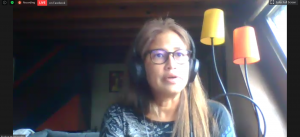 As governments grapple with Covid-19, many will turn to infrastructure investment both as a means to fill gaps in healthcare exposed by the pandemic and provide a much-needed boost to struggling economies. However, as a new book from the International Monetary Fund (IMF) illustrates, up to 30% of that investment could be lost to inefficiencies stemming from mismanagement and corruption. CoST'S Evelyn Hernandez participated in a webinar today to mark the launch of the book, adding the CoST perspective to the critical issue of infrastructure governance.
Guests, including speakers from the IMF, the Government of Indonesia and the Asian Infrastructure Investment Bank explored the key issues impacting infrastructure governance, including the need to enhance transparency, tackle the infrastructure gap and increase private sector and national participation in procurement.
Using the OC4IDS to promote infrastructure transparency 
Addressing the issue of transparency, Evelyn dived into the insights gleaned through CoST assurance in Asia-Europe, Africa and Latin America: notably, that while corruption can occur at every stage in the project cycle, the most common areas of concern are inadequate project preparation and tender management. Evelyn pinpointed the Open Contracting for Infrastructure Data Standard (OC4IDS) as a tool to maximise transparency, identify red flags and track funds throughout the project cycle. The OC4IDS also benefits investors, civil society and journalists, who can use the data to monitor implementation and ensure investments are guarded against waste and corruption.
Webinar participants also touched on the roles of the public and private sector in the Covid-19 recovery, to which Evelyn reiterated that need for the private sector to be seen as a critical partner to government efforts. In order to do that, the right frameworks for transparency, accountability and participation must be in place to build trust between private and public sector.
The vast sums needed to finance infrastructure projects – which are highly complex and often take years to complete – means the sector is uniquely prone to the pitfalls of corruption and mismanagement. To counter this, it has never been more important to have effective infrastructure governance systems to ensure these investments stay on track. Within this context, the pandemic presents an opportunity to implement new frameworks to support reform efforts and the chance to 'build back better'.