This week, members of the World Road Association (PIARC) met at the 26th World Road Congress in Abu Dhabi. PIARC provides a platform for road experts, fostering debate and knowledge sharing around key issues affecting the sector. CoST technical advisor Hamish Goldie-Scot and former CoST Ukraine country manager Natalie Forysuk were both at the congress, where they shared the CoST approach with attendees. As with all forms of infrastructure, there is an ever-present need for increased transparency and accountability within the roads industry. Roads form the basis for transport networks in countries around the world, and huge sums of money can be lost through the misdirection of funds meant for their construction.
Hamish and Natalie spoke at a session entitled ''Promoting a culture of transparency and integrity in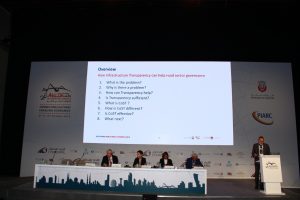 transport administrations''. This session was chaired by Mr Nazir Alli, Former CEO of the South African National Roads Agency, who had emphasised the importance of accountability and transparency in infrastructure procurement during his keynote speech the day before. Throughout his presentation at this session, Hamish stressed that the road and transport sectors are faced with problems with no quick or easy solutions. Crucially, there is an estimated $15 trillion public infrastructure investment gap up to 2040 and the transport sector is particularly prone to corruption.
However, there is also a growing demand for transparency and citizens are becoming increasingly engaged with how and where their money is spent. As such, Hamish emphasised that increasing trust between all stakeholders involved in infrastructure will be a decisive factor in improving the sector. CoST has a strong track record in the road sector, which stems from a commitment to engaging with these stakeholders: government, private sector, the public, media and civil society. In Ethiopia, this led to revisions to the design of the Gindeber – Gobensa Road, which saved USD $3.2 million and reduced project time by six months.
Also speaking at the integrity session, Natalie Forysuk discussed her extensive experience in bringing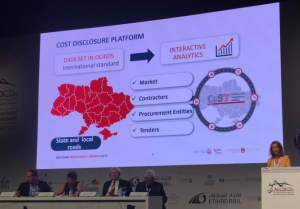 the road industry out of the shadows in Ukraine. CoST Ukraine has effectively applied the CoST approach to transparency, accountability, multi-stakeholder working and social accountability to Ukravtodor, the state Road Agency of Ukraine. As a result, the Transparent Infrastructure Open Data Portal has been developed which has published more than 6800 contacts from regional Roads Agencies in the country. Natalie has now moved from her role at CoST to become a deputy minister at the Ministry for Infrastructure in Ukraine, meaning the ministry has a firm advocate of infrastructure transparency within its ranks.
Feedback from attendees at the integrity session showed that there is an appetite for greater transparency within the road sector. All stakeholders ultimately want to trust the system they work in, and for themselves to be trusted. CoST's approach provides a realistic and adaptable means by which firm progress can be made in this respect.