We are deeply saddened by the recent passing of Honduran Presidential Commissioner of Transparency and CoST Board member, Alfredo Cantero. Our thoughts are with his grieving family and friends at this difficult time.
Alfredo has been involved in CoST since 2014, playing a key role in developing the application of CoST Honduras to join the initiative and later becoming government representative on the CoST Board.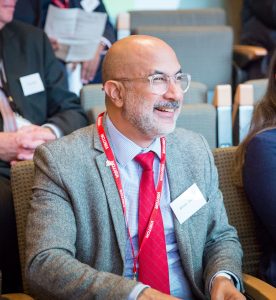 Over the past four years Alfredo has provided a tremendous contribution to our international activities, consistently advocating CoST and its full benefits on national, regional and international stages.
In addition to his role on the CoST Board, Alfredo was a member of the CoST Honduras Multi-Stakeholder Group. Not only did his drive, resilience and enthusiasm augment political will to join CoST during post-reform Honduras in 2014, but it has undoubtedly played a key part in the achievements experienced by the programme since its initiation.
Such achievements include the development the internationally acclaimed SISOCS platform which discloses data on major infrastructure projects including public-private partnership projects, the publication of five assurance reports which have highlighted key issues and resulted in action taken by procuring entities to set these right, and the roll out of a rich social accountability programme including citizens, journalists and civil society to have a say in how their infrastructure is built. Most recently Alfredo and colleagues put forward the winning bid on its latest tool, INFRAS at a Presidential Hackathon in Taiwan.
In 2018 Alfredo was appointed 'Presidential Commissioner of Transparency, with Ministerial rank' in Honduras – a role in which he oversaw the implementation of the Transparency Policy in Honduras and facilitated liaison between the Presidency and government institutions for a coordinated approach across government towards transparency, accountability and open government. Prior to this, he was Presidential Director for Special Projects, heading Strategic Delivery Unit in the Office of the President of Honduras.
Over the past year, Alfredo spoke on behalf of CoST at key international events including the recent OGP 2019 Summit, Ottawa and at the 20th Anniversary of Engineers Against Poverty (EAP) where he told the CoST Honduras story of change. These stories exemplified Alfredo's fundamental belief in government accountability, at the EAP event Alfredo stated:
"Today I want to underscore that the experience of CoST in Honduras is fostering true cultural change. This gives me hope that it is the seed of the true cultural change we need."
We are forever indebted to our friend and colleague, Alfredo Cantero.