CoST recently participated in the sixth Open Government Partnership (OGP) Summit to share its experience on citizenship engagement. In this blog, Olive Kabatwairwe, CoST Africa Regional Manager and CoST Uganda Manager reflects on the lessons shared and dives deeper into the impact of our work in Uganda.
"If we want to change the system, let's break the roles" was a common theme at the recent Open Government Partnership Summit held in Ottawa, Canada.  Opening the Summit, Prime Minister of Canada Justin Trudeau reaffirmed Canada's commitment to open government and called on other governments to follow suit. Addressing approximately 2000 Summit attendees from 79 OGP member countries, he stressed the role of citizen participation in building strong democracies and spoke on the role that he and other leaders must play. He emphasised that "power belongs to citizens", which is key for advancing democracy.
Mr Trudeau's message aligns with the CoST approach in enhancing infrastructure transparency and accountability through citizen participation. The growing recognition on the value of inclusion can itself be shown by the three priority areas of #OGPCanada this year which were participation, inclusion and impact.
As CoST programmes mature worldwide, the social accountability aspect of our work has also increased, to ensure more inclusion of citizens so they have a direct say in how their infrastructure is built. And on the second Summit day CoST convened a series of lightning talks with Hivos to share examples of this work. I was thrilled to present the CoST Uganda example of engaging with local communities to help deliver better infrastructure by use of events known as 'barazas' in Uganda.
CoST held its first baraza in Wakiso District, an urban sprawl outside of Kampala, Uganda which is growing at a rapid rate of 4.1% per year. The district has the largest road network in the country, spanning an impressive 536km, yet it only has funding to upgrade the road by 4km annually. The construction of a major road in the district, Namasuba Ndejje Kitiko Road, was included within CoST Uganda's first assurance process which provided an independent review to highlight key issues of concern on this and other infrastructure projects.
The assurance process highlighted that sections of the road project had been abandoned and not completed and there were accessibility challenges as shops and homes were blocked by wide drainage trenches which had been dug along the road as a drainage system mechanism. The road was narrow and motor cycles and cars drove down at liberty, and in just one year five deaths had been caused by speeding vehicles.
To address these issues CoST Uganda organised a baraza in December 2017, bringing together community members and district officials for frank discussion on some of the key issues. Residents rightly complained that the road was dangerous, and requested that speed humps be installed. One resident commented that the road was so dangerous and narrow that families no longer allowed their children to cross the road to go to school or the shops.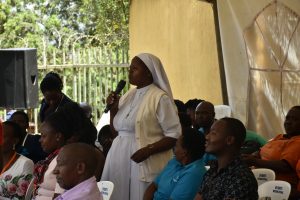 In response Wakiso District erected speed humps and since then there have been no fatalities on this stretch of the road. To prevent flooding the district opened up and constructed a drainage channel for water to flow through.
The baraza changed how citizens viewed policy makers. District Engineer, Samuel Mwesigwa who has been working in Wakiso for over five years said that previous barazas were full of accusations and finger pointing, but this was different.
"The CoST baraza was a turning point. It opened our minds to the relevance of involving citizens in infrastructure project delivery, from planning right through to completion and post-completion phases."
The baraza is still talked about today. Citizens were brought much closer to decision-makers to the extent that they freely surrendered their land for the construction of the road, including offering additional land for drainage works. Such has been the success of the model that has been replicated elsewhere in Wakiso District and it has been adopted by other countries including in Tanzania.
Not only did the CoST assurance process and the baraza help improve trust between citizens and decision-makers but it also helped to improve trust between the local, national and sub national levels. For example, the district had limited capacity to manage road construction, but after CoST raised awareness of the district's needs, the Ministry of Works and Transport provided much-needed road equipment and human resources for the road works. As a result, relations between the ministry and local district were improved.
As I outlined during my lightning talk at the Summit, the change which has taken place in Wakiso District was illustrated during the launch of CoST third assurance process, when a representative from the government procurement agency began her presentation by thanking CoST. She was a resident of a neighbourhood affected by Namasuba Ndejje Kitiko Road and outlined that she had been a believer in CoST principles before, but she had not realised that it was responsible for the changes in the area. She had been affected by the five deaths and she was proud to go home and tell her community that she worked with the organisation that was responsible for this.