Today we publish 'Enhancing inclusive infrastructure: A review of gender equality in CoST Thailand'. The publication provides a valuable baseline for CoST Thailand to measure progress in gender equality and an opportunity for our global members to use its lessons to enhance more gender-inclusive infrastructure in their countries.
In Thailand and in many other contexts infrastructure is in both practice and perception a male-dominated sector. Through our new publication and other areas of work we are delighted to help address this pressing issue.
Review insights: How does CoST Thailand fare in gender equality?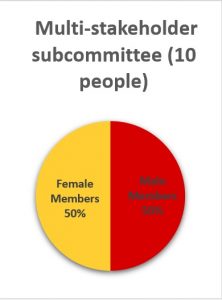 On the surface we find a high level of female representation in CoST Thailand – marked by an average of 50% female participation. Encouragingly, female professionals report equal participation and weight in decision-making within the programme.
However, on closer inspection we found that most of the roles in which females were employed in included administrative, managerial and secretarial positions. Many women were also employed in junior positions which will have implications in the future as they may experience the 'glass-ceiling' situation. According to one female interviewee:
There are certain specific roles for males and females. For example, men are more in the engineering field and females are more in management.
The publication outlines key ways to address this including the host organisation of CoST Thailand creating a gender-specific annual review and developing a system to capture female representation – this would raise awareness on the issue internally, making it more likely to be rectified.
Other recommendations also highlight the value of the Multi-stakeholder Group – the governance body of CoST Thailand – developing a gender policy, budget and building partnerships with local gender organisations to safeguard female employees' career development and to see that females are hired across the spectrum of positions in the construction sector.
Amplifying the female voice in public participation
In Thailand and elsewhere CoST brings together citizens and local decision-makers through innovative public events which has led to impressive results and key infrastructure issues being addressed. As evidenced in the publication there is now an opportunity to increase female participation within Thailand's events, taking stock of lessons from other CoST countries to do so.
Public forum events convened by CoST Thailand tend to be male-dominated with the women who are present often taking a backseat and being less forthcoming in raising concerns to decision-makers. Their voice may be represented through the men in attendance, but even on an optical level this contributes to the perception that construction is a 'male activity' which could reinforce old stereotypes.
To amplify the female voice, the experience of CoST Uganda could be of value. Its successful community events have put in place reasonable accommodation for women – with priority given to locations with easy community access and considerations such as childcare and transportation have been taken into account. Importantly – they have used a skilled moderator who prioritises questions from women keen to have their say on the issues affecting their families.
CoST Thailand Programme Manager and Ministry of Thailand Fiscal Analyst Channon Chamnankit said:
The publication demonstrates the importance of the gender balance in the delivery of CoST –  females can play an important role in the programme and we look forward to incorporating lessons from other CoST members to help promote their participation in activities such as our public forums.
What's next for CoST and gender inclusion?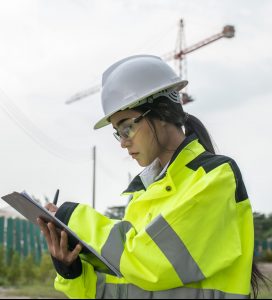 This publication has helped to inform our initial work on increasing gender-inclusive infrastructure across our members. To track progress we have recently incorporated new gender-relevant indicators in our programme monitoring and evaluation.
Gender inclusion will also be a feature of our robust guidance package being launched this month which aims to enhance our approach and help us to meet pressing global issues. Further details of how we plan to promote gender inclusion will also be available in the updated version of our Business Plan 2020 – 2025 released this Autumn.
The publication 'Enhancing inclusive infrastructure: A review of gender equality in CoST Thailand' has been made possible with support from the UK Foreign and Commonwealth Prosperity Fund's ASEAN Economic Reform Programme and the United Nations Development Programme's Promoting a Fair Business Environment in ASEAN.
The CoST Thailand programme is also supported by the UK Prosperity Fund, UNDP and Thai Ministry of Finance.
Download 'Enhancing inclusive infrastructure: A review of gender equality in CoST Thailand'.