The Mayor's Office of Bogotá and CoST representatives from around the world came together last week to hold the virtual launch event of the CoST Bogotá programme, which was streamed live on Facebook. With speakers from CAF (the development bank of Latin America) and the UK Foreign, Commonwealth and Development Office, the event highlighted international support for Bogotá's CoST membership and its significance in advancing the City's transparency goals.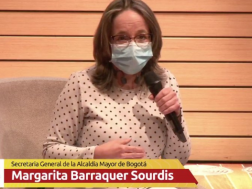 Ms Margarita Barraquer Sourdis, General Secretary of the City of Bogotá, underscored citizens' right to know how public resources are being managed and outlined the City's goal of promoting open government through the CoST approach. Speaking earlier in the day at an event held for the OECD Global Anti-Corruption & Integrity Forum, Ms Sourdis also reiterated the corruption risks associated with infrastructure management and the need to 'armour' social infrastructure such as hospitals against them. She outlined how promoting greater integrity in infrastructure would generate employment opportunities which, given the economic impact of Covid-19, is currently of critical importance to Bogotá.
The event was attended by CAF's Integrity and Governance Lead, Camilo Cetina, and the Director of the UK Prosperity Fund in Colombia, Tamar Bello, who spoke on the importance of initiatives such as CoST in advancing transparency in public infrastructure.
Watch the launch below (in Spanish):
Ambitious plans ahead
CoST Bogotá will initially publish information on eight major projects spanning water and sanitation, transport, and healthcare. They include the construction of Bogotá's first metro line, a long-delayed project which will ultimately transport up to 72,000 passengers per hour in each direction. Disclosure in line with the CoST approach will increase transparency and accountability throughout the implementation of these high-value projects, ensuring public funds are spent efficiently and reducing the risk of costly delays.
The application of the City of Bogotá to CoST further strengthens the commitment of the City to open government and infrastructure transparency and accountability. We are delighted to work with the City as it builds back from Covid-19 and applies the CoST approach across several high value projects
Evelyn Hernandez, Head of Members and Affiliates, CoST International Secretariat.