The Municipality of Coamo became the first jurisdiction in Puerto Rico and the United States to join CoST, one of the leading global initiatives focused on improving transparency and accountability in public infrastructure. 
The non-profit organization Sembrando Sentido and the League of Puerto Rican Cities, join in collaboration with the municipalities of Coamo and Toa Baja to launch the Infrastructure Transparency Initiative, as affiliate members.
The Municipality of Toa Baja has already begun the process of joining CoST, and aspires to become the second jurisdiction to participate in the Initiative in Puerto Rico and the United States. 
Issel Masses, executive director of Sembrando Sentido and liaison to the Initiative commented:
We hope that the initiative will serve as a model, not only for the infrastructure sector at the local level, but also for managing other types of post-disaster recovery in Puerto Rico and the United States. 
This pilot initiative will foster collaboration between the private sector, communities and government to develop and implement transparency and social monitoring mechanisms focused on priority infrastructure projects. 
CoST's efforts around the world demonstrate high-impact improvements in the quality and cost of infrastructure, one of the sectors most vulnerable to mismanagement and corruption. In addition, it seeks to increase citizen participation to ensure proper stewardship of public investments.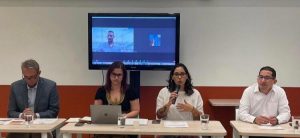 Juan Carlos Garcia Padilla, Coamo's mayor, Issel Masses Ferrer, director of Sembrando Sentido, Cristina Miranda Palacios, director of League of Puerto Rican Cities, Karla Mercado, general services administrator and Michael Rivera, Toa Baj municipality administrator, assisted the event.
"The collaboration with Sembrando Sentido and the entry into the CoST global network fills us with enthusiasm and pride.  We are facing the great challenge of maximizing the historic allocation of funds for reconstruction, and I know that with this collaboration we will further strengthen the great efforts that are being developed from our municipalities," said Cristina M. Miranda Palacios, Executive Director of the League of Puerto Rican Cities.