Last year CoST impact rose to an unparalleled level. In our 2018 Annual Report published today this is demonstrated through many stories of change found at the national and international level. Several factors have contributed to these stories and stem from the uniqueness of the CoST approach and its four core features.
Thanks to the use of innovation and technology, CoST members disclosed data on over 11,000 projects – almost double the amount that was disclosed in 2017. CoST assurance has turned the disclosed data into more compelling information. Multi-stakeholder groups have used this information to undertake deeper engagement with procuring entities. And more citizens and other voices have been amplified.
Stories of change across our members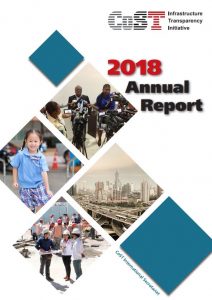 The culmination of these factors has led to greater understanding by decision-makers that they will be held to account and their decisions subject to a new level of scrutiny. Practically speaking, as the report shows – in 2018 this led to the introduction of five sector reforms by government and key issues addressed on 14 projects – delivering better quality infrastructure and greater cost savings.
Particularly impressive is the fact that these stories were told even in the most challenging of environments – such as in Afghanistan where a design review unit was established which according to the Minister of Transport is likely to 'save millions.' The unit was established following project preparation issues being raised in Afghanistan's assurance process.
CoST Thailand's assurance process identified issues concerning the health and safety of a road expansion and flyover construction project. To address these issues, CoST Thailand convened a public forum so the community could constructively voice their concerns and request important actions to the procuring entity such as the need to connect local houses to a drainage network. Shortly thereafter not only were these and other measures addressed so that the project was made safe, but a greater sense of trust was built between the local community and decision makers.
CoST's global influence
Whilst these stories of change have been told at the national level, globally, CoST has been telling another story focussed on increasing its global influence and gaining greater traction among key players.
Throughout the year CoST was placed high on the agenda of core events across the open government community, the infrastructure governance community and the construction industry, from OECD, G20 and World Road Association seminars to World Bank roundtables to the global conferences of the Open Government Partnership and the International Anti-Corruption Conference.
This influencing has opened new doors and furthered awareness on the immense value of improving infrastructure transparency and the value of the CoST approach to do so. For example, CoST was given a bigger influencing role at the end of the year when it was invited to Chair the C20 International Working Group (IWG), the civil society influencing group of the G20 IWG during the 2019 Japan Presidency.
Endorsement of CoST has come in other forms too – such as our work with the World Bank, incorporating the adoption of its Public Private Partnership Project (PPP) Framework in the CoST Honduras data disclosure platform, SISOCS. Another example outlined in the report is how CoST research on its assurance process was awarded best paper at an academic conference.
Building on our achievements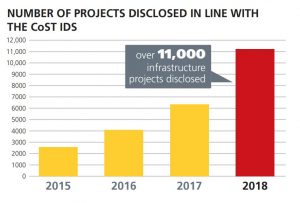 Whilst we celebrate our achievements of 2018, we do not intend to rest on our laurels. The maturity of our members' programmes has lent the way for significant impact stories which can now be built upon and become the start of something greater – a larger movement for infrastructure transparency in our countries of operation. We will also focus on spreading this level of depth to our newest members and others.
In addition to programme depth, our attention will be drawn on attracting more members to the initiative, including high-income countries. Shortly, we will be publishing the overarching findings from our research on the value-add of CoST to these contexts. As we saw at the start of this year, this can be an important influencing tool and helped contribute to the Province of Buenos Aires joining CoST.
With many doors opened for CoST influencing at the international level, we can refine and develop our message to the different audience groups to whom CoST is appropriate. We will aim to increase the official recognition of CoST and infrastructure transparency among key influencers, as we have already seen this year. Doing so will help to spread the value of the CoST approach, ensuring its long term sustainability and the immense benefits it brings.