Every year trillions of dollars of public money is invested in infrastructure, yet citizens do not often have a say in how this infrastructure is built. At last week's OGP Summit, CoST and Hivos brought together open government advocates to hear inspiring stories from media, civil society organisations and government representatives on different ways to effectively engage citizens and improve public infrastructure.
In a series of lightning talks, speakers highlighted how social accountability activities can have significant impact in a host of contexts and challenging environments from Afghanistan, Guatemala, Honduras, Uganda to Malawi. The talks highlighted the power of journalism, citizen monitoring of projects and providing a platform for open dialogue between citizens and decision makers, and the importance of placing trust in citizens enthusiastic to have a say.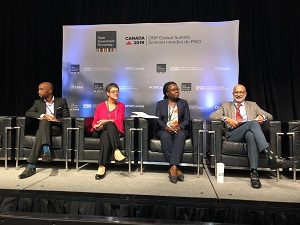 In Honduras, H.E. Alfredo Cantero, President of the Honduras Transparency Commission, spoke about the CoST Honduras social accountability movement sweeping through the country. This has included the establishment of a 'School of Social Accountability' to equip civil society members with expert knowledge on auditing the vast projects now disclosed on the online portal, SISOCS. Such has been the success of the School, that its graduates have helped to roll out a National Network to promote its teaching to a wider group of CSO members. This innovative approach has helped to highlight issues of concern and indicate which projects should be included within CoST Honduras' assurance processes.
In contrast to this, Guatemalan journalist, Ana Carolina focussed on exposing corruption in cut-off regions.  She explained how accountability can be furthered by using tools like the digital media site, Ojoconmipisto, public data, public information laws and training reporters in rural regions. These activities can help the most marginalised, such as those in Ixcán municipality where water infrastructure promised 20 years ago has still not reached 18 communities.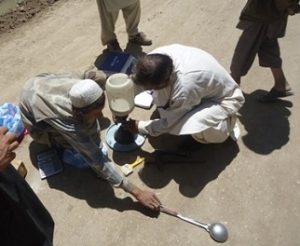 In Afghanistan, Executive Director of Integrity Watch Afghanistan, Sayed Ikram Afzali highlighted the impact of community-based projects which involve local volunteers who help to bring key issues on construction projects to officials so these can be swiftly rectified. This he explained, "encourages resilience, gives a voice to disenfranchised populations, promotes trust, and contributes to transforming a fragile state into an accountable, responsive and democratic one."
Olive Kabatwairwe, CoST Uganda Manager showed the impact of encouraging open dialogue between citizens and local decision-makers through community events known as 'barazas' in Uganda and Donald Kamthunzi, Yoneco, Malawi spoke on the impact of radio for giving a voice to citizens to express concerns on projects.
We are delighted to have partnered with Hivos for this session to demonstrate the value of varied approaches to citizenship engagement in different contexts worldwide and what can happen when trust and autonomy is given to those eager to have a say in how their infrastructure is built.
For more news on our social accountability activities see: