In September CoST joined over 1500 participants from over 70 countries at the fifth International Open Data Conference in Buenos Aires, Argentina. In keeping with the event's theme to share ideas and collaborate for an open data future, CoST and the Open Contracting Partnership (OCP) presented its new joint standard for infrastructure during a panel session on sharing approaches for infrastructure transparency.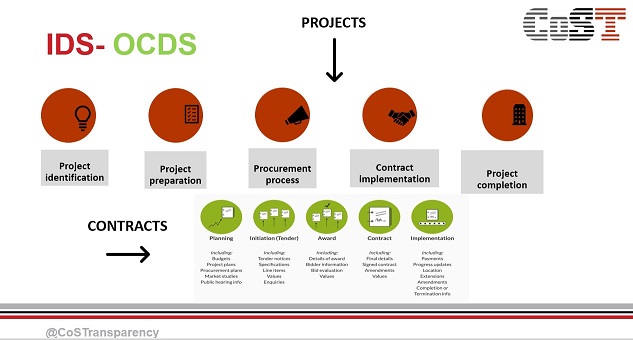 Over the past several months we have been developing our joint standard which is based on our existing CoST Infrastructure Data Standard and adds an infrastructure extension to the Open Contracting Data Standard (OCDS). The standard combines guiding principles of open contracting and open data with our specific knowledge on what to disclose during the project cycle from its preparation to completion, drawing together all contracts related to the main asset. It will unlock existing information that is often on paper and share it online to put it into the hands of our partners in real time.
During the panel session, CoST Technical Adviser, Evelyn Hernandez and Duncan Dewhurst of Open Data Services introduced the new standard and its full benefits to audience members.
Ms Hernandez said, "Disclosing data on public and Public Private Partnership (PPP) infrastructure projects gives added value to governments, civil society and the private sector who can each use the disclosed data for their various needs The new joint standard which is freely available to all to use and republish as they wish will further meet the needs of these groups, allowing instant access to information they are looking for in one centralised place."
CoST and OCP launched the alpha version of the standard during the event and invited the audience to take part in a consultation process which will ensue over the coming months. After this feedback is taken onboard and necessary adaptations to the standard are made, we will launch the final version in 2019.
In addition to presenting our new standard, Ms Hernandez shared another joint approach undertaken with OCP and the World Bank which is helping to address key issues in improving the transparency and accountability in PPP infrastructure projects.
PPP projects have often been considered a controversial approach to the financing and delivery of public infrastructure as financial and contract arrangements are usually opaque and concerns have been raised on their value for money. In Honduras, CoST, together with its government partners has been addressing this issue by being the first CoST country to test the use of the CoST IDS in conjunction with the World Bank PPP Disclosure Framework and the OCDS on PPP infrastructure investments. This has made Honduras one of the very few countries in the world to implement a comprehensive framework for PPP disclosure that is compliant with all major global standards.
SISOCS requires direct entry of information on each of the contracts related to an infrastructure project which opens up the possibility of duplication of data held in other procurement systems. By incorporating the Open Contracting Data Standard, it will be possible to directly import and export information on tender, award and contract implementation (procurement stage). In addition, linking procurement data up to project monitoring systems also brings the benefit of supporting checks on compliance. As OCP point out here, procurement data from a specific ministry shows 250 contracts for construction but only 200 are recorded on an information platform this could help to raise compliance gap issues and vice versa.
We were pleased to join our partner, OCP as well as the Global Infrastructure Hub (who also sat on the panel) at the International Open Data Conference to raise awareness on the huge benefits of infrastructure transparency – an issue that has not previously received significant attention at the event. With global infrastructure requirements estimated at $57 trillion (from 2013 – 2030) and with an approximate 10 – 30% of infrastructure investment lost annually to inefficiency, mismanagement and corruption we will continue to highlight the issue and our solutions here and at other major gatherings.
Useful links