Today CoST Uganda launches its Fourth Assurance Report which explores 23 public infrastructure projects across the health, education, environment and transport sectors. The results of the assurance process are encouraging, showing a culture of disclosure is beginning to take root amongst Uganda's procuring entities whilst also gleaning important insight into social and environmental considerations in project delivery.
There were positive results in terms of disclosure from across the projects, which are valued at approximately 4.6 trillion Ugandan shillings (US $1.27 billion). Overall disclosure levels (62%) increased by 20% from CoST Uganda's Third Assurance Report in 2020, with increases in both proactive (55%) and reactive (70%) disclosure. This positive disclosure trend can be attributed to a growing understanding of the value of open and accessible data amongst procuring entities, as a result of long-term engagement and awareness raising by CoST Uganda.
Health and safety during Covid-19
Critical health infrastructure has come under the spotlight in the last year, along with adherence to Covid-19 safety regulations in project delivery. Three Ministry of Health projects were included in CoST Uganda's assurance process, and it was noted that almost all health centres being upgraded through Uganda's Intergovernmental Fiscal Transfers Program had hand washing centres, sanitiser and facemask notices. However, citizens expressed concerns regarding the accessibility of the health centres, citing issues such as poor access roads and overcrowding in facilities.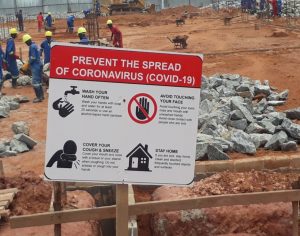 Increase in female and youth participation, gaps in local content
A key positive takeaway gleaned through the assurance process was the engagement of women, youth and people with disabilities on Uganda National Roads Authority (UNRA) projects. UNRA displayed the highest levels of female participation in key roles such as lab and CAD technicians. Local content provisions – a key issue in Uganda's infrastructure sector – were also incorporated in the procurement of the majority of UNRA projects.
However, gaps in adherence to local content reservation schemes appeared throughout the assurance process. As a result, CoST Uganda recommends that the Public Procurement and Disposal of Public Assets Authority continues to improve and monitor the level of compliance to national guidelines on local content reservations schemes, and holds all contractors and procuring entities responsible for non-compliance.
Engaging stakeholders to implement change
CoST Uganda's high-level launch event which took place in Kampala brought together key stakeholders from the government, media and civil society. Assurance reports are important features of the CoST approach as they turn otherwise opaque, technical infrastructure data into compelling and accessible information. In turn, report launches are key advocacy opportunities as their findings and recommendations can be used to engage decision-makers, gain public buy-in through the media and ultimately encourage better public infrastructure delivery.