CoST Honduras recently celebrated seven years of promoting transparency, participation and accountability in infrastructure. A key achievement over the years has been its extensive training programme which has reached over 600 people from sectors as diverse as government, journalism, engineering, architecture and communications. To mark its seventh anniversary and build on this success, CoST Honduras and the National Autonomous University of Honduras (UNAH) have broadened the joint diploma they offer with courses tailored to indigenous groups and women.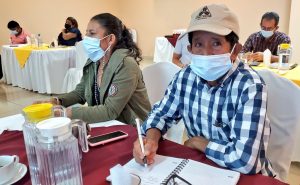 The two new diplomas offered by CoST Honduras and UNAH join pre-existing courses for journalists and university students. Participants gain an in-depth understanding of the core CoST features of disclosure, assurance and social accountability, with an emphasis given to the role played by each group – whether students, women, journalists or indigenous leaders – within this process. The diplomas respond directly to the need to increase participation in infrastructure, to ensure projects serve a cross-section of society and that more marginalised voices are heard as they are designed and implemented.
Graduates begin work on evaluating Hurricane Eta and Iota reconstruction projects
CoST Honduras is also making progress on its commitment to support the government on the evaluation of emergency projects procured in the aftermath of Hurricanes Eta and Iota. Around 4.7 million Hondurans were impacted by the emergency in 2020, which destroyed 1000 homes and resulted in damages totalling 45,000 million lempiras (approximately US $1.86 billion). As with all crises, the speed at which reconstruction projects were procured created fertile ground for corruption and mismanagement. On request of President Juan Orlando Hernández, CoST Honduras committed to support the government by including these projects in its next assurance process.
Eight of these reconstruction projects were recently ringfenced for the next assurance process. In a firm nod to the quality of CoST Honduras's training processes, graduates of another of its programmes – the School of Social Accountability – will work with consultants to evaluate these projects themselves. Together they will explore the accuracy and completeness of project data disclosed, to bring any issues into the public domain and ensure they are easily understood. We look forward to reporting on the outcome of this assurance process, which will shed light on the expenditure of critical emergency funding in the wake of crises.