CoST is thrilled to announce that CoST Honduras has come first place at the 2019 Taiwan Presidential Hackathon. The team presented their project INFRAS, an online database which promotes transparent and sustainable infrastructure, at the hackathon held in Taipei on 21 July.
The Presidential Hackathon was launched in 2018 by the Taiwanese government to demonstrate the value of open-source and open-data in achieving the UN's Sustainable Development Goals. By facilitating knowledge sharing between open-data proponents and experts, it aims to mine the collective wisdom from across industry, civil society, government, the private and public sectors. This year, an international track was created which saw 'hacktivists' from around the world come to Taipei to showcase their use of open-data to solve global and regional development challenges.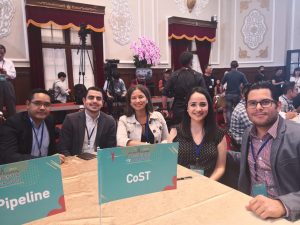 Over 23 proposals from 15 countries were submitted in the first round, from which seven were chosen to present in Taipei. CoST Honduras's tool INFRAS was pitched within the context of Honduras's vulnerability to climate change and the country's unclear criteria for environmental impact assessments. This can lead to infrastructure projects being developed in inappropriate and vulnerable areas, with a detrimental impact to the environment.
INFRAS was developed to counteract this. The platform collects data on the sustainability of infrastructure projects from a variety of sources, including the SISOCS database, and presents it in an accessible map format. Users are then able to see whether a project has an environment licence or not, whether there are discrepancies with planning regulations and which projects have failed to disclose environmental data at all.
One significant finding from the sample of projects used to validate INFRAS was that 94% of projects with inconsistencies are managed by just one procuring entity. Access to this type of data is crucial to enhancing transparency within the sector and developing an understanding of the factors, or actors, which inhibit the development of sustainable infrastructure.
Alfredo Cantero, Presidential Commissioner of Transparency in Honduras and CoST board member, was in Taipei for the Hackathon. Speaking at the event he said:
''The team from Honduras, and the Government of Honduras, believe deeply in open-data and transparency. The best ally that a reforming government can have is an informed and capable citizenry, and what better tools then those we have seen today for encouraging the public to use the information given to them. I consider Taiwan to be a big sister to Honduras on the subject of open-data, and I'm honoured to be here today.''
Next steps 
After its success in Taipei, CoST Honduras plans to use INFRAS to develop a comprehensive analysis of the vulnerability of infrastructure projects in landslide prone areas, flood prone areas and protected areas. It will continue to develop the vulnerability indicators of INFRAS and will move forward with the support of the Honduran government, and the CoST Honduras Multi-Stakeholder Group.