Engaging the media is a key part of the CoST approach, increasing accountability by ensuring key issues in public infrastructure projects enter the public domain. It's already been a busy year for CoST teams and below are some of the headlines from 2020 so far.
January 
Panama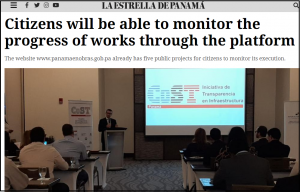 After a six month implementation period, Panama's formal disclosure requirement (FDR) came into effect in January. The FDR requires procuring entities to disclose infrastructure data in line with the CoST Infrastructure Data Standard (CoST IDS), which will be published on Panama's online disclosure portal PanamaenObras. National outlets including La Prensa and La Estrella picked up on the FDR's enactment and the training sessions which CoST Panama ran alongside this.
CoST Sekondi-Takoradi
Last year, Sekondi-Takoradi Metropolitan Area, Ghana became the first local government to become a member of CoST. In an interview with Open Government Partnership, CoST Sekondi-Takoradi Programme Manager Isaac Aidoo discusses CoST's innovative, open-government solutions to local infrastructure challenges.
February
Uganda
CoST Uganda launched its Third Assurance Report in February, drawing a large audience to its high-profile launch. Press Uganda talked to numerous officials in the build-up to the launch, who cited that failure to engage the public in infrastructure projects – disclosing information around financing and procurement in the process – was leading to a lack of trust in government projects. Conversely, strong communication generates public support for projects which, as our Uganda impact story illustrates, benefits project quality.
CoST International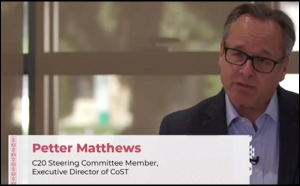 In this video published by the C20, CoST Executive Director and C20 Steering Committee member Petter Matthews discusses the importance of collaboration in order to influence the G20 process, and the platform which is given to civil society through the C20.
Ukraine 
This piece from USAID explores a CoST Ukraine initiative which is supported by USAID's Support for Anti-Corruption Champion Institutions (SACCI) programme. The initiative has helped train nearly 200 representatives from oblast administrations, civil society and media outlets, on monitoring highway construction. As one civil society volunteer states, "It's great when the result of our work is a repaired road on which children go to school…this is possible thanks to the valuable information I learned while working on the project."
Thailand 
Writing in newspaper Naewna, this column explores nine steps which can be taken to combat corruption in Thailand, and includes CoST Thailand's approach to disclosing information around infrastructure projects.