Engaging journalists on issues in infrastructure is a key part of the CoST approach: it increases accountability amongst decision makers, by ensuring the public are informed of the developments which impact them. Over the last few months, CoST programmes been working to engage the media on critical issues at a national and regional level.
Afghanistan
In November, a donor conference was held in Geneva to discuss the Afghanistan Partnership Framework and Afghanistan National Peace and Development Framework II, both of which are designed to guide the country towards greater economic and social development. As reported by Pajhwok News, CoST Afghanistan joined other civil society organisations to voice concerns over the current trajectory of state-building efforts.
Thailand
Pattaraporn Vorasaph, Deputy Director of Thailand's Comptroller General's Department and CoST Thailand multi-stakeholder group member, spoke to GovInsider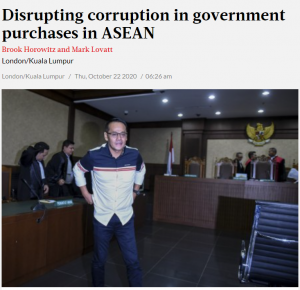 about how Thailand is cutting infrastructure costs with transparency. This comes after the Thai Ministry of Finance reported US $460 million in cost savings in September 2020, as a result of increased disclosure on over 650 infrastructure projects.
Elsewhere in the ASEAN region, Brook Horowitz and Mark Lovatt write in the Jakarta Post about how new data tools and platforms – including CoST – can help governments across ASEAN to reduce and eliminate corruption during Covid-19.
Uganda
Uganda's New Vision reports on a joint CoST Uganda / Africa Freedom of Information Centre (AFIC) report titled "Fair business practices'' which indicates that the government lost over 300 billion Ugandan shillings in delayed public procurement for works in the transport, health, agriculture and education sectors.
Daily Monitor sat down with CoST Uganda Manager Olive Kabatwaire to discuss the report further. While detailing the vast sums lost by government throughout procurement, Olive outlines how transparency amongst procuring entities is in fact increasing as a result of enhanced disclosure levels.
Ghana
News Ghana reports on CoST Sekondi-Takoradi's progress in bringing new municipal assemblies from the Western Region of Ghana on board with the CoST approach. Isaac Aidoo, CoST Sekondi-Takoradi Manager, told assembly representatives that adopting the approach would empower citizens to hold decision makers to account, and help create a more competitive environment for the private sector.
Ghana Web reports on the launch of CoST Sekondi-Takoradi's Scoping Study which will assess levels of transparency and accountability in Ghana's infrastructure procurement sector.