CoST Jalisco has announced the launch of a new online disclosure portal during its first multi-stakeholder group (MSG) meeting, taking Jalisco state a step closer to more transparent and accountable infrastructure delivery. Disclosure is an integral part of the CoST approach and key to institutionalising transparency: by the end of 2019, CoST promoted the disclosure of 38,514 infrastructure projects through online platforms and this will be the 15th CoST portal globally.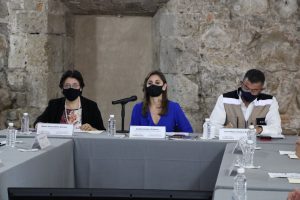 Over the course of the meeting, CoST Jalisco's MSG – which includes representatives from government, the private sector, academia and civil society – laid out plans for the launch of the platform in January 2021. After a pilot phase, procuring entities from the Jalisco state government and municipalities of Guadalajara, Tonalá, Zapopan and Tlajomulco de Zúñiga will be required to disclose infrastructure project data, from inception to completion, in line with the CoST Infrastructure Data Standard (CoST IDS).
The role of disclosure platforms in establishing cultures of transparency and accountability is significant – a key benefit is that they centralise and simplify otherwise opaque, complicated infrastructure data, meaning it can be accessed by civilians, procuring entities and private companies alike. In Honduras – where, since January 2019 there have been 469 projects disclosed on the SISOCS and SISOCS APP platforms – for journalists such as Alex Flores, disclosure platforms are used to uncover critical information about public spending. In Ukraine, interactive dashboards are regularly used by the private sector to assess levels of competition across regions.
Speaking during the MSG meeting, the Secretary of Infrastructure and Public Works, David Miguel Zamora Bueno, underlined the need for authorities to provide citizens with efficient and effective services.
During the pandemic, it is essential we bring stability to the population and create jobs…It is a firm commitment of this government to provide the services that citizens deserve and to develop public works, on time and to high standards.
Next steps for CoST Jalisco
The Institute of Transparency, Access to Public Information and Protection of Personal Data of the State of Jalisco (ITEI), which hosts the CoST Jalisco programme, has signed a collaboration agreement with the Mexican Chamber of Construction Industry (Jalisco branch). The two organisations will work together to strengthen transparency and develop the forthcoming platform which will be launched in a pilot phase in January 2021 – stay tuned for more details.