It's been a busy summer for CoST teams around the world: take a look at some of the work which has made the headlines.
June
Philippines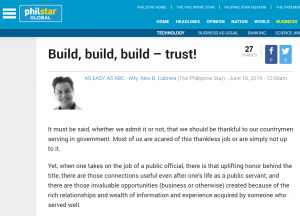 Following CoST representation at a UNDP workshop in Bangkok, Alex B. Cabrera, Chairman and Senior Partner at PwC Philippines, wrote in Philstar about CoST Honduras's success in promoting a more transparent infrastructure sector via SISOCS. Read more here.
Honduras
Media outlets across the country, including La Tribuna, picked up on data released by CoST Honduras showing a 78% increase in project data published on SISOCS between May 2017 – May 2019. Read more here.
July
CoST International Secretariat: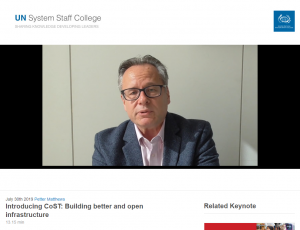 A video presentation by CoST Executive Director Petter Matthews has been featured in the UNDP's online course "Anti-Corruption in the context of the 2030 Agenda for Sustainable Development", which was developed with the UNSCC Knowledge Centre for Sustainable Development. The video introduces CoST and the importance of infrastructure transparency in the context of supporting sustainable development. Watch the presentation here.
Uganda
New Vision Uganda reported that 73.5% of Ugandans are unsatisfied with the quality of infrastructure projects. This comes after CoST Uganda released results of its survey of citizens' needs, stakeholder concerns and perceptions on infrastructure transparency. Read more here.
Honduras:
Media outlets across Honduras, such as La Prensa, reported on CoST Honduras's first place win at the Taiwan Presidential Hackathon. The team showcased their innovative new platform for sustainable infrastructure in Honduras, INFRAS. Read more here.
CoST Honduras also hit the headlines in July after 46 students graduated from the School of Social Accountability, which trains the public in skills needed to conduct social audits of public infrastructure. Read more here.
August
Ghana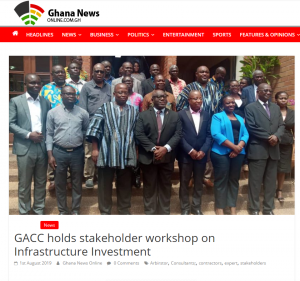 Isaac Aidoo, CoST Manager for Sekondi-Takoradi, Ghana, urged stakeholders across the country to support CoST principles. Read more here.
The Ghana Anti-Corruption Coalition (GACC) held a roundtable discussion on revitalising infrastructure investment in Ghana and the role that CoST could play in supporting this. Read more here.
The Ghana News Agency reported on the launch of the Ghana Low-Volume Roads Manual in Accra. CoST Technical Adviser Hamish Goldie-Scot contributed to the manual and attended the event. Read more here.
Ukraine
The CoST Ukraine team wrote in Vox Ukaine about the 5 steps local government should take to ensure roads receive funding for repairs. Read more here.
El Salvador
La Prensa Grafica reported on the 14 projects under review as part of CoST El Salvador's third assurance process. Read more here.