Today CoST Sekondi-Takoradi, Ghana publishes its First Assurance Report, showing encouraging levels of data disclosure compliance amongst procuring entities. The report measures levels of data disclosure in line with the CoST Infrastructure Data Standard, which, in Ghana, requires a total of 67 data points be disclosed. The report reveals that overall disclosure rates stand at 73% in Sekondi-Takoradi, a positive starting point for the burgeoning CoST programme which can now be improved on. Broken down, the report indicates that proactive disclosure (disclosure made without official request) rates are on average 89.5% while reactive disclosure stands at 54.8%.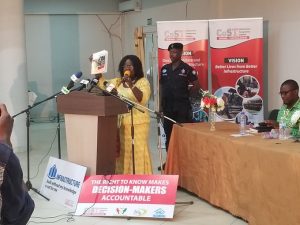 To launch the report, CoST Sekondi-Takoradi held a high-profile event attended by senior government officials, including the Deputy Regional Minister, Mrs Gifty Eugenia Kusi. The Regional Manager of the Public Procurement Authority delivered a speech on the importance of transparency in public procurement across Ghana, stating that:
"Enhanced transparency ensures credibility and increases competition in procurement systems, leading to value for money, reduction in corruption, poverty alleviation and economic development. With the size and scope of government spending in public procurement, it is critical that all stakeholders have confidence in procurement procedures.
I congratulate CoST Sekondi-Takoradi on the launch of the First Assurance Report. May this enhance transparency and accountability in infrastructure procurement."
By bringing together stakeholders from across society including the private sector, civil society and the media, the launch event aimed to facilitate discussion and galvanise support to overcome the challenges raised in the report.
Taking stock of success and lessons learned
The disclosure levels recorded in the assurance report paint an encouraging picture of attitudes and commitment to infrastructure transparency in Sekondi-Takoradi. However, there were also lessons to be learned from the projects assessed in the assurance process, which covered one road project, one library development and upgrades to three local marketplaces. These issues include instances where basic elements of project delivery were lacking, such as site feasibility studies and thorough stakeholder needs assessments.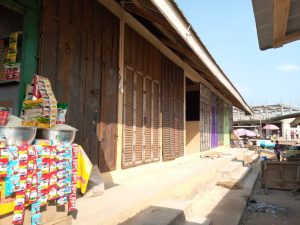 Concerns were raised regarding the level of public engagement at the design stage of the three markets. Newly built market sheds across the three sites were soon converted by local traders into lockable stores, implying they were not properly consulted in the initial design of the development. This highlights why thorough engagement with local beneficiaries is so critical to infrastructure delivery, leading to wasted public resources – and resentment – when it is neglected.
The report also raised some key issues relating to health and safety, including insufficient fire protection measures at all three of the markets referred to above. CoST hopes these issues will be raised as a matter of priority and appropriate action will be taken.
What's next for CoST Sekondi-Takoradi?
Using the findings from its assurance process, CoST Sekondi-Takoradi will now promote these findings through a media campaign across radio, TV and press briefings. It will also draw on the lessons of fellow CoST members as it opens an investigative infrastructure journalism award, so budding journalists can help to raise awareness through the media. And it will continue to draw on the success of its community engagement events which began last year – not only to draw attention to the issues but to address some of the shortcoming found in the report – that of a lack of civic participation in infrastructure delivery.
Read the full assurance report here.