This week, CoST Ukraine helped launch Ukraine's Open Data Challenge: a major initiative which supports teams as they develop innovative and sustainable open-data solutions to social problems. The Open Data Challenge was first launched in Ukraine in 2017 and more than 500 projects have been submitted since, with grants awarded to 14 teams for project implementation. CoST Ukraine won the Open Data Challenge in 2018 with its innovative Transparent Infrastructure Open Data Portal, which introduced principles of transparency and accountability in public infrastructure. To date, it has analysed more than 7000 public road contracts and given detailed information on more than 500 companies.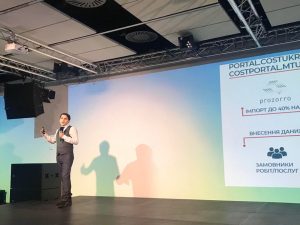 This year's competition kicked off in Unit.City in Kyiv, Ukraine's first innovation park for start-ups, businesses and research laboratories. At the launch, CoST Ukraine country manager Slava Abramov shared the experience of developing the Infrastructure Open Data Portal and participating in the Open Data Challenge.
The Transparent Infrastructure Open Data Portal publishes data on a range of projects, including some of the most and least active regional road agencies. In 2019 the portal was updated to include analytical dashboards, which focus primarily on the construction and repair of public highways. The Government of Ukraine has recently assumed ownership of the portal through a Memorandum of Understanding which was signed with CoST, thus signifying an important step towards institutionalising CoST approaches across government.
Whilst a relatively new initiative, Ukraine's Open Data Challenge has already led to some truly innovative solutions to social challenges. Previous winners alongside CoST Ukraine include Za Parkanom, a web service which features the "connection game": a map illustrating connections between public officials and significant people and companies, and thus highlighting potential opportunities for corruption. Innovations such as this show the power of data when it is made open, and we look forward to seeing the innovations which stem from the Open Data Challenge 2020.