In October, CoST Afghanistan held a capacity building session for members of two civil society organisations (CSOs) in Balkh province, Afghanistan: the Community-Based Monitoring of the Infrastructure Sector (CBM-I) organisation and the Provincial Integrity Network (PIN). More than 30 activists from CBM-I and PIN attended the event. The purpose was to familiarise the CBM-I and PIN members with the CoST approach to disclosure, accountability, multi-stakeholder working and social accountability.
CBM-I and PIN are initiatives led by Integrity Watch Afghanistan and currently active in Balkh, Herat and Jalal Abad provinces. These groups monitor infrastructure projects on a regular basis, sharing findings and raising concerns with public entities through community feedback meetings and provincial assemblies. CBM-I visits project sites three times a week to meet with site engineers and monitor the construction progress, as well as checking the quality, and projected costs, of materials using bills of quantity. Having access to project information is therefore critical to the work they do, and as such CoST Afghanistan's capacity session had a focus on the CoST core feature of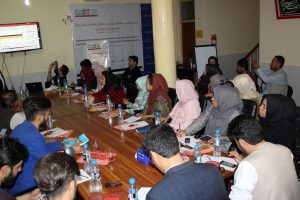 disclosure.
The disclosure feature ensures information about the purpose, scope, cost and execution of infrastructure projects is open to the public. Online data portals play a key role in this, and there are various government portals which have been developed in Afghanistan based on the CoST Infrastructure Data Standard (CoST IDS).
Currently, information from more than 4000 projects are available online, including from the Ministry of Public Works and the National Procurement Authority, which has disclosed information on 1887 projects. Having access to critical, and otherwise opaque, infrastructure data from these entities allows CSOs such as CBM-I and PIN to track project length, cost and procurement details. The training session focused on how CSOs can access and analyse the information.
The capacity session also focused on the assurance process, and the role that project monitors play more broadly in efforts to reduce corruption and enhance transparency in public infrastructure. Since CoST Afghanistan became active in 2016, civil society has become ever more engaged in public infrastructure issues: training sessions such as this will help organisations like CBM-I and PIN to continue demanding better value and higher quality infrastructure.