The Government of Ukraine has taken a significant step towards institutionalising the CoST approach after signing a new memorandum of understanding with CoST Ukraine and Transparency International Ukraine. This formalises the transfer of CoST Ukraine's Transparent Infrastructure online data portal to the Ministry of Infrastructure, which will now take responsibility for expanding the use of the portal across government.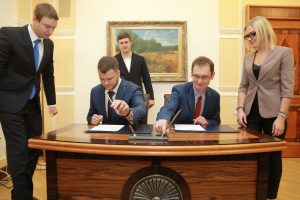 The memorandum was signed by Minister of Infrastructure Vladyslav Kryklii and CoST Programme Director John Hawkins. The Vice Prime Minister and Minister of Digital Transformation, Mykhailo Fedorov, was also in attendance, an encouraging sign of high-level support for the approach. Adopting responsibility for the portal will be a key step towards opening the transport sector as a whole, allowing the government to demonstrate where public money is being spent and the process by which projects are conceived and executed.
The Transparent Infrastructure open data portal discloses project information in line with the Open Contracting for Infrastructure Data Standard, the comprehensive joint standard developed by CoST and the Open Contracting Partnership. The portal currently contains data on more than 6,000 contracts and features an innovative interactive dashboard.
The Minister of Infrastructure emphasised an awareness within the new government that any reform process must be underscored by increased digitisation: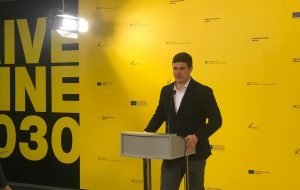 "Infrastructure challenges affect everyone's lives. We are convinced that the citizens should know what every hryvnia of taxes they pay to the budget is spent on. Therefore, today we accept this important open data project from CoST. This will allow us to demonstrate maximum transparency in relation to the information and the data that we have: how it was built, who built it, who the contractors were, how many tenders were won…it will allow citizens, public organisations and me personally to understand what the taxpayers' money has been spent on."
Vice Prime Minister and Minister of Digital Transformation of Ukraine Mykhailo Fedorov added: "This is the first step. I really want the open data topic to evolve. We would like to see the public and journalists controlling what is being done, and we, from our part, will work on developing similar instruments."
Next steps from the Government of Ukraine
Mr Kryklii outlined the government's next steps:
"We are planning to extend this system, which we will now introduce to other infrastructure sectors in Ukraine and share with other countries and partners. We will work to improve this system and introduce new analytics modules which will be useful tools for business. We aim to digitise all of our registries and build effective, paperless communication between the Ministry of Infrastructure and subordinate enterprises, institutions and central executive bodies,"
These commitments are welcome and encouraging steps from the Government of Ukraine. As Natalie Forsyuk, CoST Ukraine Country Manager, noted:
"No more secrets. The portal will allow absolutely everyone – civil society, businesses and customers – to monitor the road industry online."