This week, team members from CoST Panama have convened a workshop at the General Directorate of Public Procurement, an organisation which is part of CoST Panama's Multi-Stakeholder Group (MSG) and which hosts and manages Panamá en Obras, the online disclosure platform in Panama. The workshop was attended by representatives from the Ministry of Education and Ministry of Public Works, two procuring entities which will soon begin disclosing infrastructure data on Panamá en Obras. Attendees learnt about the CoST approach, the necessity of disclosure and using online disclosure platforms.
Here's five ways CoST uses workshops like this to engage key stakeholders, helping to embed positive attitudes towards disclosure, transparency and access to information.
Gaining buy-in from key stakeholders
Capacity building sessions are excellent opportunities to inform officials about the CoST core features of disclosure, assurance, multi-stakeholder working and social accountability. Importantly, it's also an opportunity to introduce the CoST Infrastructure Data Standard (CoST IDS) or Open Contracting for Infrastructure Data Standard. Gaining buy-in from procuring entities about the benefits of disclosure is fundamental to ensuring data is disclosed, as these officials will be ultimately be the ones to do so.
Training officials to use online disclosure portals

We've seen an increase in CoST countries' disclosure levels in recent years, which directly correlates with an uptake in the development of online disclosure platforms. Panama has two e-platforms for data disclosure: PanamaCompra, where information is published on projects at the bidding and procurement stages and PanamaenObras, which requires the full 40 indicators of the CoST IDS to be disclosed. Training sessions such as CoST Panama's ensure procuring entities have the capacity to use these portals, meaning that information becomes publicly available across the project cycle.
Implementing legal mandates for disclosure

Legal mandates for disclosure, which oblige procuring entities to publish data, are powerful tools to encourage rapid data disclosure. CoST Panama will be using their session to train procuring entities on Panama's legal mandate, which was adopted in 2019 and which means it is now mandatory for procuring entities to disclose data on PanamaenObras. Legal mandates are invaluable as they ensure the longevity of the CoST approach, even after a CoST programme ends or a government changes.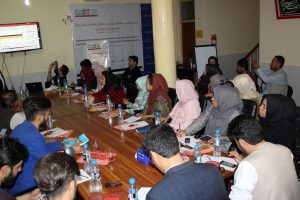 Training civil society on the use of disclosure platforms
While gaining support from procuring is a critical element of the disclosure process, workshops are also a great way to up-skill another key stakeholder: civil society. In Afghanistan, training sessions have been used to train civilian monitors on the fundamentals of data disclosure and use of online data portals. Having access to critical, and otherwise opaque, infrastructure data from online platforms allows civil society organisations to track project length, cost and procurement details.
Linking disclosure to the assurance process

Disclosure is closely linked to the assurance process – an independent review of disclosed data, which assesses its validity and quality. Assurance teams then turn technical jargon into plain language in assurance reports, where areas of good practise and lessons learned are highlighted. As disclosure become more embedded within procuring entities, the results of a country's assurance processes will reflect this good practise, and ultimately facilitate better quality and more efficient infrastructure.