In March, CoST Ukraine held a series of training sessions on the road sector for government, civil society, the media and business. The cross-societal representation at these events shows a clear commitment towards transparent, accountable and efficient road infrastructure in Ukraine.
The events, held in both Sumy and Lviv regions, provided training in the skills needed to ensure accountability throughout the whole of the road project cycle, including overseeing procurement, analysing the quality of construction and recognising discrepancies. They were held as part of Transparency and Accountability in Local Road Works, a project run jointly between CoST Ukraine and the USAID funded programme Support for Anti-Corruption Champion Institutions (SACCI).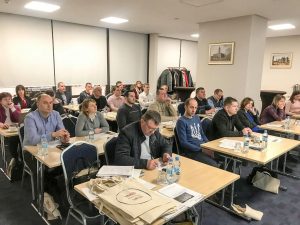 Transparency and Accountability in Local Road Works seeks to empower Ukrainian government bodies to combat corruption whilst dampening the public tolerance for it through increased knowledge and training. As part of this, CoST Ukraine is developing a training programme to monitor road-sector infrastructure at a local level, which will be informed by feedback from these events in March. The team is also building partnerships with local authorities to promote the CoST Infrastructure Data Standard for all public infrastructure projects.
Road infrastructure in Ukraine is an area which has been blighted by poor governance, mismanagement and the entrenchment of deep-rooted vested interests. Since CoST began working in Ukraine in 2015 there have been notable improvements, such as opening the door to secretive government committees, stopping projects which pose a risk to public safety and the launch of Ukraine's online disclosure platform, Transparent Infrastructure.
March's training sessions were designed to build on this success. Prior to the Sumy event CoST Ukraine asked attendees for feedback on the issues in the road sector which were most important to them: these results, including topics such as project quality control, formed the basis of the training and as such kept each session as relevant as possible. Adapting training to the individual characteristics of the road sector in this way ensures a greater likelihood of engaging individuals and tackling the root causes of corruption and inefficiency.
Altogether, these events trained 40 government representatives and individuals from six civil society organisations (CSOs) and as well as the media and business. Feedback from attendees showed a significant increase in the understanding of roads infrastructure, especially amongst the authorities in attendance. This is testament to the importance of regular training on regulatory frameworks in the fight against corruption and, with presidential elections in Ukraine currently being fought along the lines of corruption and accountability, it seems an apt time to be empowering society in this respect.
Next steps
CoST Ukraine will take stock of feedback from these sessions and share the full training programme with local authorities and CSOs at a two-day event in Odessa in July. This will target representatives from across 10 regions in Ukraine and again will be a joint event with multi-stakeholder attendance, allowing knowledge from across society to be shared. After this, the team plans to expand across the whole of the urban infrastructure sector with adapted training sessions and a school for infrastructure monitoring.
More information on road sector monitoring in Ukraine can be found here
More information on assurance in Ukraine can be found here