The road sector in Ukraine – crucial to serving the country's growing transport and trade needs – faces long-standing issues stemming from low investment and unfair business practises. The sector was decentralised in 2018, in a bid to enhance transparency and accountability at a local level and ensure funds are spent in line with local needs. Since 2019, CoST Ukraine has been training a network of civil society organisations (CSOs) to boost local authority capacity, by tracking safety and quality issues across project delivery and increasing oversight of local infrastructure.
The need for citizen oversight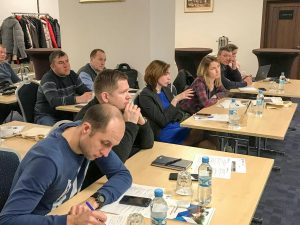 Decentralisation has not been plain sailing: local authorities were inexperienced in the details of procurement, staff lacked training and – due to a lack of data on current road conditions – there was limited information about the roads themselves. In response, CoST Ukraine – with support from USAID's Support for Anti-Corruption Champion Institutions (SACCI) – developed the "Transparency and Accountability in Local Roads Works" project, to help stakeholders across society increase capacity in local road delivery.
As part of the project, CoST Ukraine created a network of CSOs across six regions to monitor safety and quality issues on road works and relay information back to the authorities. This helps plug a significant gap exposed by decentralisation, wherein authorities lack the capacity and knowledge to ringfence exactly where road works should be carried out. It also firmly aligns with the CoST core feature of social accountability, which recognises the crucial role played by civil society and the public in ensuring taxpayer money is spent in line with public needs.
Civic monitors deliver results
The network's regional coordinators made eight on-site visits and inspected more than 20 roads and 10 bridges in 2019, delivering key findings concerning the quality and safety of projects. In addition, regional coordinator Ola Nos has created an innovative tool to facilitate civic monitoring called Road Bot. Road Bot is a Facebook 'chat bot' which helps to identify and connect citizens with the authorities responsible for local road management. It provides key information – such as request forms for road repairs – in order to flag defects. Since its launch, more than 100 citizens have used the bot and it has delivered tangible results in the form of 40km of repaired roads in Kyiv and Zhytomyr.
It is great when the result of our work is a repaired road on which children go to school, which is extremely important for the region