With global infrastructure investment needs estimated to reach $94 trillion between 2016 and 2040, delivering high-quality, cost-effective infrastructure is an ever-present concern for governments. New research released by CoST today shows the applicability of the CoST approach to achieving this goal in high-income countries. This research uses in-depth case studies from Argentina, Lithuania, Scotland and additional research from the UK and Denmark to explore how key issues in high-income countries can be resolved to deliver better quality infrastructure, on time and to budget.
Our research identifies four key areas to be addressed across the countries
1. Data disclosure on infrastructure projects is relatively high, however, disclosure is largely fragmented and difficult to locate, often spread across agencies, sites and formats, and thus hard to use.
2. Infrastructure planning and delivery has largely been based on a sectoral approach, one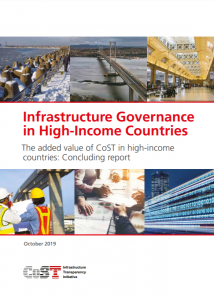 lacking a comprehensive, long-term, strategic vision from across government to improve prioritisation, attract finance and get better value for money.
3. Levels of stakeholder engagement is broadly limited to information sharing and consultation. Despite efforts to include the views of citizens their ability to influence and discuss policy options in a meaningful manner is limited. This can result in poorer quality decision-making, increased risk and missed opportunities which could be seen from improving trust between stakeholders.
4. Major challenges persist in delivering projects to time and budget, with indications that procuring entities sometimes accept unrealistic projects based on keen prices and aggressive schedules which ultimately do not materialise. Furthermore, an absence of monitoring and reporting of such situations reduces the incentive for improvement.
The CoST solution
As we outline in this in-depth blog, the CoST features of disclosure, assurance, multi-stakeholder working and social accountability can provide direct solutions to the issue areas above. For instance, any government attempting to increase quality data disclosure can use the standardised format of the Open Contracting for Infrastructure Data Standard, which encourages the use of online platforms to eliminate data fragmentation and increase accessibility.
The CoST feature of assurance meanwhile, can support oversight institutions such as national audit offices by providing regular, independent reviews of the data disclosed. The positive impact of these features are catalysed by engaging social accountability actors such as the media and civil society, who provide scrutiny over the infrastructure delivery process.
We are seeing an increasing impact from the CoST approach worldwide, so far largely evident in the developing and emerging economies in which we operate. However, countries continue to be burdened by common issues in infrastructure delivery regardless of the difference in their economies. We are confident that high-income countries will reap the same benefits as have been seen by others using the CoST approach to combat these issues, ultimately leading to more efficient and improved infrastructure.