Today CoST publishes its robust Assurance Manual and Guidance Note, to help further the work of our members and others and deepen our global impact. Assurance is the first of several important guidance products we will publish over the coming months, responding to lessons we have learnt since our founding and to demand from our members. Importantly, the package arrives as our newest members step-up their programme implementation.
An assurance kick-off
Assurance – one of the four features of our approach – highlights issues in disclosed data which key stakeholders can use to demand better infrastructure. It means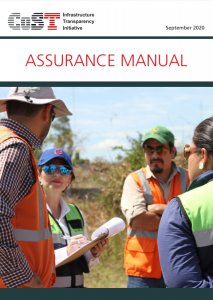 that fundamental issues harming the sector, such as a lack of competitive bidding or budget and time overruns can be clearly indicated and rectified. Messages from complex data are presented in a clear and compelling way in written and visual forms to give an easy grasp of the key issues.
The detailed Assurance Manual released today can help CoST members (and others) further their assurance process and see that more 'assurance reports', compelling and substantiated in content, are produced which subsequently generate impact.
Key aspects of the Assurance Manual
Whilst providing a comprehensive overview, the Manual's content can be adapted to each of our member's context. Newer members can benefit from all sections, whilst more mature programmes can home in on certain areas they wish to improve, such as developing clear and concise executive summaries and recommendations in a step-by-step section on assurance reports.
More specific elements include:
The role of the Multi-Stakeholder Group
Member programmes are guided by a Multi-Stakeholder Group (MSG), comprising high-level actors from across government, private sector and civil society. The MSG is key to the uptake of the report's findings and recommendations and so a specific section is outlined on what their involvement should look like. Areas of focus include sufficient report fact checking and their role in bringing the key influencers to report launches.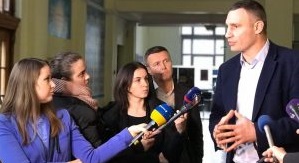 Assisting the assurance team
An assurance team is appointed by members to carry out the assurance process and draft the report. Their key activities are detailed to help them best prepare, undertake and follow up on assurance site visits. Following a section on creating a compelling report, a helpful template of the 'core elements' is provided as well as tips on overcoming common challenges such as being bogged down in detail and getting started on drafting.
Turning assurance into action
Assurance has little if any value if it does not contribute to impact and it must be given due credit through a high-level launch event and other actions. Guidance is provided on hosting an event, listing who should be the keynote and the right agenda to ensure findings are communicated effectively.
Finally, to make things simpler for members, useful tools, checklists and resources are also included within the Manual's Annexes.
What's next in line?
Keep an eye out as we produce more guidance on our other core features – multi-stakeholder working, disclosure and social accountability. The guidance package will also include resources on how CoST helps to address pressing global concerns such as inclusive infrastructure and the applicability of CoST in crisis.
Key links