CoST Honduras publishes its Sixth Assurance Report today, which assesses three public-private partnership (PPP) infrastructure projects valued at a significant US $277 million and revealing an average data disclosure rate of 68.2% for the projects. While this may seem relatively low when compared to levels found in the fifth and fourth assurance reports (98.1% and 85.5% respectively), this is the first and only CoST assurance process aimed solely at PPP projects in the region. Thus, the findings can be built on to establish a culture of disclosure as we have seen for the traditional projects included in CoST Honduras assurance.
Project design remains a key area for improvement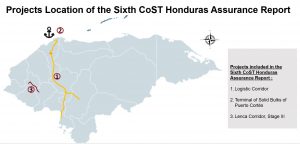 One of the main issues to appear throughout this assurance process was weaknesses in the project design stage. The design process could be strengthened, particularly by actions taken to prevent projects from being modified during their implementation, which results in higher costs for the government. For instance, three changes to the contract for the port terminal project included in the report amounted in additional costs of US $440,000, which were then paid at a cost to the tax payer.
To address the low levels of proactive disclosure recorded (data disclosed without official request) CoST Honduras also recommends increasing training on the value of open data. One project in particular – the Lenca Corridor, which includes road construction, rehabilitation and maintenance – saw a lack of project data. Where it was available, data was at times incomplete which has led to questions surrounding its validity.
A starting point for improving public-private partnership projects
It is hoped that by focussing only on PPP projects in this assurance process, CoST Honduras can help catalyse improvements in their delivery both in Honduras and across the Latin American region.
To do this, improvements will be made to the online data disclosure portal developed by CoST Honduras, the Government and World Bank, SISOCS APP – designed solely for PPP project data through the integration of the Open Contracting for Infrastructure Data Standard (OC4IDS). The #OC4IDS provides clear guidance on what information to disclose, how to disclose it and improves its availability in 'real time' – its integration will play a key role in improving the quality, accessibility and use of PPP project data.
To encourage institutional change, the CoST Honduras Multi-stakeholder Group (MSG) comprising government, private sector and civil society representatives will monitor compliance of the recommendations and foster a closer relationship with the government bodies responsible for administering PPP projects, COALIANZA and SAPP.
Further, the MSG will promote the report to key stakeholders – civil society, the media and others – who can use the findings to demand increases accountability from PPP bodies. To begin this work, the MSG will launch the report at a high-level event today in Tegucigalpa, where stakeholders from across government, private sector, civil society, the media and academia will hear more on the findings and next steps.
For updates from the launch event at 10.00am CST (4.00pm GMT) follow us on @CoSTransparency.