A webinar held by CoST Uganda has shone light on some of the pitfalls faced by women working in – or hoping to work in – infrastructure.  These roles are typically male-dominated: just 12% of professional engineers in the UK are women, women hold only 17.5% of jobs in the EU's transport sector, and represent only 20-25% of the energy sector workforce. CoST Uganda's webinar, which coincided with International Women in Engineering Day 2020, sought to explore key issues in this field in Uganda.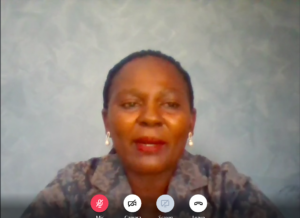 The keynote speaker, Betty Nakamya, is Chairperson of the Uganda Association of Consulting Engineers (UACE), and as such was able to provide extensive insight into the working environment for female engineers in Uganda and the need for female contribution to the design and construction of infrastructure. The webinar was chaired by Susan Kataike, the Principle Communications Officer at Uganda's Ministry of Works and Transport, with additional insight from Susan Agwang of the Africa Freedom of Information Centre.
Whilst there are a number of powerful female figures within the infrastructure sector in Uganda (including the Minister of Energy and Mineral Development, Irene Nafuna Muloni, who is an electrical engineer), Betty Nakamya touched on numerous issues she had come across during her time with UACE, which impact female representation amongst consulting engineers. Drawing on her own experience, Betty relayed how the state of local roads had inspired her to become an engineer but that she was discouraged by those around her from taking maths and science subjects. Once qualified, she then had to work against traditional perceptions of an 'engineer' in order to succeed.
She went on to note a number of cultural and professional norms impeding female participation in infrastructure:
The perception of women as too bossy, too emotional or too nice
An absence of female mentors and role models in the sector
Work environments which do not support mothers, such as those without childcare facilities or nursing rooms
Cultural norms, such as the idea that a woman's 'place' is with the family
Diversity contributes to innovation
The session also highlighted the critical role that women have in setting priorities in the design of infrastructure, which in turn ensures it contributes to both economic and social development. As one contributor stated: "diversity contributes to innovation". There is also strong evidence to show the positive impact of gender parity on wealth creation: research from McKinsey Global Institute shows that equal female participation in the economy could boost global gross domestic product by as much as US$ 28 trillion by 2025.
As CoST members continue to develop relationships with professional and educational bodies such as UACE, we hope to play a greater role in facilitating these outcomes by spearheading female participation in infrastructure roles. CoST Uganda also has taken steps to actively encourage women and young girls to contribute their views during citizen engagement meetings, by prioritising their questions to ensure their opinion is heard by authorities.  We will now work to build on these efforts to improve the participation of women on multi-stakeholder groups and in our engagement with civil society organisations, the media and citizens,