To achieve the ambitious task of reaching the Sustainable Development Goals (SDGs) by 2030, our procurement systems must become ever more transparent and accountable. These systems are key to delivering vital public services such as water, medical goods and sustainable infrastructure: the better they perform, the better these public services function. Cost Executive Director Petter Matthews recently participated at a high-level United Nations Development Programme (UNDP) event, which focused on increasing transparency and accountability within this context. Over two days, attendees explored tools which could help governments tackle integrity risks and shared lessons on improving the transparency of public procurement in Southeast Asia.
The event brought together senior practitioners from public procurement oversight bodies, anti-corruption bodies, private sector and civil society
In his opening remarks, Thailand's Finance Minister Mr Uttama Savanayana highlighted how CoST, which has been active in Thailand since 2015, has enhanced public engagement in procurement issues. This is a key tenant of the CoST approach, which leads to greater accountability from decision makers  and ultimately improves project outcomes.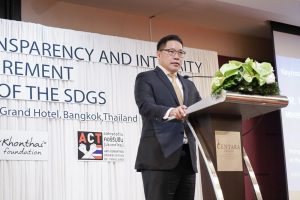 Speaking during a panel discussion, Petter outlined the opportunities which come from engaging the private sector in infrastructure project monitoring and procurement reform. This is an area that CoST is familiar with: a major benefit of the CoST approach is that reduced corruption and a level playing field are better for the private sector, government and communities alike.
Some of the opportunities created through more transparent procurement practices include:
• Improved confidence at an industry level that a 'level playing field' exists and that contract award will be fair
• Decreased risk of reputational damage from association with corrupt projects or enterprises
• Better project management by procuring entities, which improves the likelihood that implementation and payment will be fair and open
• Reduced levels of corruption and greater accountability, opening markets that had previously been considered off-limits by responsible companies
• Better financial management which leads to better access to private capital and more favourable lending terms.
These benefits clearly demonstrate the need to double down on efforts to promote integrity in this area, whether in Southeast Asia or beyond. High-level support for doing so was clear to see at the UNDP event, but without the involvement of all stakeholders at all levels – including civil society, the private sector and the media – implementation may be slow and progress disjointed.  If the international community hopes to make real progress towards the SDGs through increasing transparency in public procurement, engaging with these groups will be key.
Image credits: UNDP