Back in December 2019, CoST Uganda was awarded funding through the UK Government's Business Integrity Initiative (BII) and launched the programme Promoting fair business practices in Uganda. The BII sought to strengthen emerging markets by combatting issues such as corruption and low competition which can otherwise impede private sector participation. Through Promoting fair business practices in Uganda, a number of improvements were made to Uganda's business environment including:
Greater transparency with an increase in infrastructure data disclosure from 42% in 2019 to 61.5% in 2020
An increase in private sector understanding of – and participation in – the infrastructure procurement process. This has increased competition, with the number of bids per tender for infrastructure projects increasing from 1.6 in 2019 to 12.5 in 2020
Improvements in local content provisions, with reservation schemes (which 'reserve' contracts for national and resident firms) reviewed to include more sectors for local providers.
We've basically managed to flip the narrative around bribery and infrastructure procurement. Construction companies in Uganda are increasingly seeing that business integrity is beneficial for all and can save them money
Gilbert Sendugwa, CoST Africa Senior Regional Manager
Increasing competition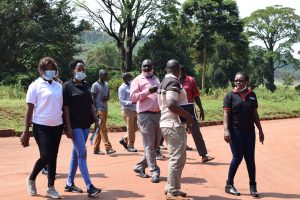 Spending on public procurement is estimated to account for 60% of the total national budget in Uganda, however a CoST Uganda study from June 2020 showed low levels of competition. Over 50% of projects on the Government Procurement Portal attracted fewer than just three bids, meaning the quality of project delivery was at risk of being compromised by a lack of diversity in the bidding process.
CoST Uganda saw an opportunity to improve the quality of infrastructure projects by engaging more firms in the procurement process. A series of meetings and webinars were held by CoST Uganda throughout 2020 which increased knowledge of the procurement framework amongst the private sector, as well as reiterating the need for greater transparency and communication between stakeholders. According to Gilbert Sendugwa, CoST Africa Senior Regional Manager, "procurement agencies told us they used to struggle to get even the minimum number of three businesses bidding for contracts. Without confidence in the system, nobody engages. Information sessions on specific tenders helped to build trust, along with increased disclosure. Now bidders are banging at the doors."
As a result, firms in Uganda have been better equipped to utilise opportunities in the sector, with an increase in average bids per tender from 1.6 in 2019 to 12.5 by 2020.
Increasing transparency
Increasing infrastructure data disclosure is a key element of the CoST approach, and one which can increase private sector engagement by giving firms a clear picture of the procurement environment. As such, Promoting fair business practices in Uganda sought to strengthen transparency in Uganda's infrastructure sector by increasing the level of disclosure associated with infrastructure projects.
In a clear nod towards the sector becoming more open, the number of data points from the CoST Infrastructure Data Standard (CoST IDS) included in the Government Procurement Portal increased from 12 to 20 throughout the year, and now includes issues including- and reasons for – variations in the price, duration and scope of contracts. There was also a spike in the number of new projects disclosed on the portal throughout the course of the project, increasing from 149 in 2019 to 449 in 2020. The Public Procurement and Disposal of Public Assets Authority (PPDA) has approved the alignment of data disclosed on the portal with the Open Contracting for Infrastructure Data Standard (OC4IDS). This increase in transparency means that as more key information becomes visible, infrastructure delivery in Uganda will be subject to greater oversight, accountability and competition.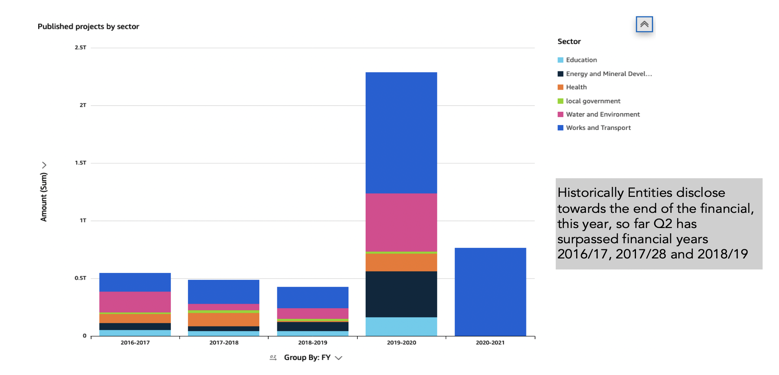 Increasing local content in project delivery
Concerns were raised regarding local content provision throughout the project, with private sector voices calling for reservation schemes (which 'reserve' contracts for national and resident service providers) to include additional sectors. The government has since reviewed the reservation schemes for all procuring entities to include more areas for local providers, and amended the standard bidding documents to include key health and safety, occupational and environmental provisions.
Following a series of engagements with various stakeholders, the Uganda National Roads Authority has taken special steps towards increasing the level of participation of local firms in the road sector. The procurement of contracts has been 'ring-fenced' for local providers in areas including selected bridge works, the maintenance of national roads and swamp improvements.
A lack of transparency means foreign contractors often get away with giving Ugandan businesses only low-skilled work. There is no opportunity for Ugandan companies to build capacity and experience. Disclosure according to the CoST standards, so that everything is done in the open, would help remedy this situation
Gilbert Sendugwa, CoST Africa Senior Regional Manager
Upskilling journalists to inform and engage
One of CoST Uganda's key outputs throughout the course of Promoting fair business practices in Uganda has been to train journalists on the infrastructure sector, strengthening their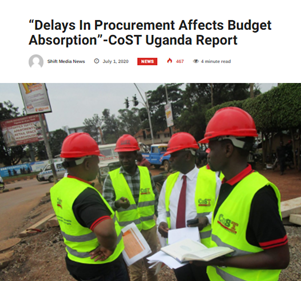 capacity to understand and communicate on technical infrastructure issues. This level of understanding allows journalists to uncover major stories around collusion and mismanagement, as well as shining a light on parts of the sector– such as procurement– which are often inaccessible without technical knowledge.
In order to meet these challenges, CoST Uganda organised training sessions for journalists to enhance capacity and build interest in the infrastructure sector. The sessions were held on a quarterly basis and each one drew at least 45 journalists from television, print, radio and online outlets. They also acted as an opportunity for journalists to share their experiences, lessons learnt and challenges faced when reporting on infrastructure projects, and to identify strategies for improvement.
To date, CoST Uganda's media engagement has led to over 50 publications related to promoting fair business practices in Uganda. CoST Uganda's 'media team' has grown to 57 committed journalists who come from various media houses and have committed to report on infrastructure projects.
My articles have very much improved in terms of quality and balance. CoST has helped journalists understand the issues we should consider when reporting on infrastructure: how to access data, how to spot flaws in procurement and our role in promoting transparency
Jaramogi Patrick, Investigative Journalist
Next steps for promoting fair business practices in Uganda
Promoting fair business practices in Uganda has shown the impact that increased dialogue and transparency can have on building trust and encouraging private-section participation in public procurement. Going forward, CoST Uganda will work to ensure that commitments made by the government throughout the initiative are met, and will continue coordinating events which bring public and private-sector actors together to enable a fairer public infrastructure sector.
For more information on the initiative please see CoST Africa Senior Regional Manager, Gilbert Sendugwa's interview with the Basel Institute on Governance.
Find out more about CoST impact globally here.