CoST tools and standards help governments, procuring entities and relevant stakeholders to promote transparency and accountability in infrastructure planning and delivery. Our products range from first-of -their-kind innovations to established industry standards for infrastructure data disclosure and validation.
Jump to:
CoST IDS
OC4IDS
CoST Analytical Tool
Infrastructure Transparency Index
SISOCS APP
InfraS
Electronic Infrastructure Monitoring Tool
CoST IDS
The CoST Infrastructure Data Standard (CoST IDS) promotes the disclosure of 40 data points to be published at key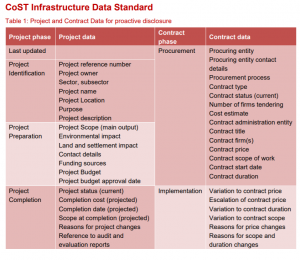 stages of the project cycle including identification, preparation, completion, procurement and implementation. As of 2021, data from 60,000 infrastructure projects has been disclosed in line with the CoST IDS.
The CoST IDS promotes the disclosure of both project and contract data. Project data relates to data on a specific project, overseen by a single project owner and the budget authority. Contract data relates to the legal or officially binding agreement between a procuring entity, and a contractor or consultant, to deliver the project activities.
This data can be disclosed in two ways, through proactive and reactive disclosure. Proactive disclosure relates to data disclosed 'without official request', at specified stages. Reactive disclosure meanwhile, relates to additional information that project owners and procuring entities are required to make available 'upon request'. Proactively disclosed data, in a clear and usable format, is disseminated through a public medium such as an online portal. Reactively disclosed data meanwhile, is made available to the requesting party in a usable form, in an accessible place and under a specified set of conditions.

For more information on the CoST IDS, its format and use, see the CoST core feature: Disclosure page.
OC4IDS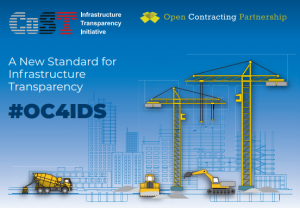 In partnership with Open Contracting Partnership, in 2019 CoST launched the Open Contracting for Infrastructure Data Standard (OC4IDS). The OC4IDS utilises CoST and OCP expertise, combining contract level disclosure using the Open Contracting Data Standard with project-level disclosure using the CoST IDS. In doing so, the OC4IDS connects previously siloed information to create a view of the 'whole picture' of infrastructure investment and delivery.
The OC4IDS transforms paper-based processes into machine-readable open data which boosts efficiency, strengthens competition and delivers better value for money. It provides detailed guidance on what – and how – to disclose data at three levels:
The project level, covering identification, preparation, implementation and completion phases
The contracting summary level, covering the contracts for project design, construction and supervision
The contract process detail level, where updates and changes to a contract can be monitored.
How can OC4IDS be used?
On an existing infrastructure transparency portal, an OC4IDS export option can be added to the system. This means project information can be compared with information from others, and supports the development of common tools for the analysis of infrastructure project information.
On a new infrastructure transparency portal, OC4IDS can be used to structure the data collection. OC4IDS supports the collection of well structured, clear and unambiguous data, comparable across contexts. It can integrate both with existing open contracting data sources, and also where structured open contracting data is not available.
For more information on the OC4IDS, see the OC4IDS Toolkit and the CoST core feature: Disclosure page. The Open Data Services' blog series also explores why OC4IDS was built and what it was built from, how OC4IDS was built and what has been learnt from putting it to use.
CoST Ukraine analytical tool
Interactive dashboards have been developed to boost the functionality of CoST Ukraine's open-data portal, providing a real-time analysis of the portal's road data. The dashboards provide key information including who is winning contracts, time and cost overruns and variations in infrastructure investment regionally. This means they can be used by the private sector, civil society, the media and public to identify red flags relating to competition, efficiency and corruption in the road sector, bolstering efforts to reform highway development in Ukraine. The CoST International Secretariat is now working with CoST Ukraine to develop an English version of the analytical tool to be adapted by other CoST members.
Infrastructure Transparency Index 

The Infrastructure Transparency Index (ITI) measures levels of transparency and the quality of processes related to public infrastructure at national and sub-national levels. Collaboratively designed and based on international good practice, its objective is to provide stakeholders with quality information that serves to promote transparency and improve the management of public infrastructure.
Its methodology sets out how the scores for evaluating procuring entities in a national or sub-national context are calculated. The individual scores are then used to generate an Index that compares the evaluated procuring entities. It is based on the enabling conditions for strengthening transparency in the sector plus the transparency-related practices applied on recently completed infrastructure projects.
Results
Find out about the results of ITI implementation in Costa Rica, Honduras, Sekondi-Takoradi (Ghana), Uganda and Ukraine here.
SISOCS APP
In January 2018, CoST Honduras partnered with the World Bank to launch the innovative SISOCS-APP, an information platform for public-private partnership (PPP) projects. The system incorporates the CoST IDS, the World Bank's PPP Disclosure Framework and the Open Contracting Data Standard extension for PPPs, ensuring that information is disclosed for the full financial and contractual arrangement. By mid-2020, SISOCS APP was populated with information from 21 PPP projects including, ports, airports, roads and public buildings worth over $US 1.4 billion. To catalyse more impact in PPP infrastructure projects, we  have published the open source code of SISOCS-APP in our CoST GitHub Repository so it can be adapted and used by CoST members and others.
InfraS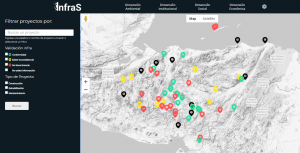 CoST Honduras draws on different sources of data to populate its InfraS dashboard, using the SISOCS database alongside other governmental open data portals. CoST Honduras developed InfraS in order to understand opportunities to promote sustainable infrastructure in line with the UN Sustainable Development Goals. The platform collects data on the sustainability of infrastructure projects and presents it in an accessible map format. Users can see whether a project has an environment licence, if there are discrepancies regarding planning regulations as well as projects which failed to disclose environmental data altogether. The open-source code of InfraS can be found in our CoST GitHub Repository allowing for its free use by others to help improve sustainable resilient infrastructure worldwide.
Electronic Infrastructure Monitoring Tool
In February 2020, CoST Uganda launched its Electronic Infrastructure Monitoring Tool (e-IMT) to help engage citizens and other stakeholders in the delivery of infrastructure. Building on the manual Infrastructure Monitoring Tool developed in 2018, the e-IMT provides an online platform through which procuring entities, civil society, the media and public can track the progress and quality of infrastructure delivery. A major function of the e-IMT is to centralise key project information for procuring entities and government officials to easily review: they can simply log-in to the platform, search for their project and instantly access up to date information regarding its status and any issues. The oversight afforded through the e-IMT will also ensure issues such as financial mismanagement, health and safety failings and poor project outcomes are avoided.
Super Inspe-CoST
Like other CoST members across four continents, CoST Jalisco proactively publishes open data on public projects, through a virtual platform, to improve the efficiency of the funds used by the public entities participating in the initiative.
CoST Jalisco has recently launched a new digital assistant, Super Inspe-CoST. This supports as a guide in the journey of transparency and fighting corruption in public infrastructure. This  tour starts by clicking on the Super Inspe-CoST icon on the front page of the website costjalisco.org.mx.