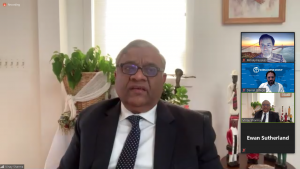 In his opening remarks for the World Bank's session at the International Anti-Corruption Conference (IACC), Vinay Sharma, the Global Director of the World Bank's Governance Global Practice, told the audience that ''e-procurement systems have the potential to be transformational in their ability to fight corruption''. The reason: public contracting expenditure accounts for around US $11 trillion per year, meaning 12% of global GDP is spent procuring goods and services. As Bridging the Accountability Gap: Anticorruption Data Tools for Governments highlighted, innovative e-procurement tools – such as those from CoST and the World Bank – are key to ensuring accountability in the expenditure of these funds.
Bringing corruption out of the shadows
Because of the vast sums highlighted above, a small improvement in procurement efficacy has huge cost-saving potential, especially in lower income countries where public contracting accounts for a much higher proportion of expenditure. During the session Natalie Forsyuk, Ukraine's Deputy Minister for Infrastructure and former CoST Ukraine Manager, presented CoST tools from Honduras and Ukraine as a means to help governments make these vital changes.
In Ukraine, data from over 10,000 road projects is held on CoST Ukraine's Transparent Infrastructure Open Data Portal, helping contractors and procuring entities to spot signs of corruption and monitor levels of competition across the country. Meanwhile, CoST Honduras's Infras platform collects data on the sustainability of infrastructure projects, and creates a system of red flags to alert authorities when preventative action should be taken. Both tools are highly valuable for government, private sector and citizens alike, by allowing more informed decision-making and transparent project delivery.
The role for civil society
Session attendees were particularly interested in the role that civil society organisations (CSOs) can play in the roll-out of the tools presented, which also included the World Bank's new Global Procurement Risk Analytics platform (ProACT). Mihaly Fazekas of the Government Transparency Institute, which helped develop ProACT, underscored the need for CSOs to be the eyes and ears of government on the ground, helping to bolster the portals by feeding reliable information into them. Natalie Forsyuk seconded this, emphasising the need for civil society to ask the questions which ensure governments remain accountable.
Sustainability is key
A major takeaway from the session was the importance of long-term sustainability in order for data platforms to reach their potential. Natalie outlined how these tools are highly valuable in showing governments where weaknesses lie in procurement systems, but that data showing the entirety of the project cycle – which can takes years – is needed for this to be effective. And, as emphasised by Mihaly, the success of such tools ultimately boils down to the government's commitment to implement their findings: they all rely on someone on the ''inside'' to act on their results.