Today, CoST Guatemala publishes its Seventh Assurance Report which evaluates 22 public infrastructure projects and finds a 20% increase in disclosed data up from its last report. The report finds that, on average, procuring entities are disclosing 64% of the CoST Infrastructure Data Standard (CoST IDS) adapted to the Guatemalan context which uses 31 data points (or items) across key stages of the project cycle.
To highlight this and other findings to key stakeholders who can help to put issues raised in the report in the public domain and promote infrastructure transparency, CoST Guatemala will be launching the report today at an event including the Comptroller General of Accounts of Guatemala, universities, research centres, procuring entities from both the public and private sector and independent experts.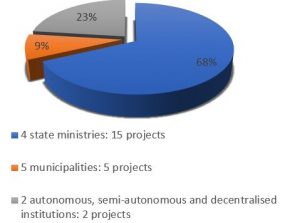 As a mature CoST programme, CoST Guatemala's seventh process involved a range of sectors and procuring entities, including road, school, sport and sanitation sectors selected from state ministries; autonomous, semi-autonomous and decentralised institutions; and municipalities. Of the 22 projects evaluated, three published 100% of the data required by the CoST IDS, four more than 90%, 12 between 40 – 90% and six less than 40%.
Four years ago, compliance with the CoST IDS was mandated by the Ministry of Public Finance through Resolution 01-2014. This is likely to have played a role in augmenting disclosure levels recently seen in Guatemala's assurance processes. CoST places high value on establishing such mandates which help to create a sustainable culture of infrastructure transparency and which have been established in other CoST countries including Costa Rica, Ethiopia, Honduras and Malawi.
From pre- to post-contract: Addressing the disclosure discrepancy

Whilst the increase in disclosure up from the previous report is to be commended, the report highlights some key issues of concern, including discrepancy in data disclosure observed across key areas of the project cycle. The report highlights that low disclosure was observed in the post-contract phase (38%) with the highest levels in pre-contract phase (72%). Additionally, despite the high levels observed pre-contract, data disclosure on key pre-contract areas – budget and financing agreement – was still low.
The report also indicates that certain projects had experience low levels of planning either technically, financially or legally. In most cases, broad changes to the projects were made which did not necessarily correspond to the original scope and which exceeded the budget of the contract. The report also highlights that certain projects were carried out under emergency declaration, making them subject to low disclosure and/or a lack of planning.
In light of the report findings, Multi-stakeholder Group (MSG) member and Director of the Chamber of Construction, Álvaro Zepeda, said: "CoST Guatemala not only seeks to publicise the level of disclosure on public infrastructure projects, but also seeks to deliver a report that reveals both the deficiencies and strengths that can occur. It is not to point out and judge, but to show what we can improve."
Next steps for CoST Guatemala
The event today is just one way CoST Guatemala plans to promote the report's key messages. It has also developed a communications strategy which places focus on social media which is now widely used in Guatemala by stakeholders relevant to CoST.
As CoST Guatemala moves to carry out its eighth assurance process, it will begin to develop two important tools. The first being an updated disclosure manual which will help to provide a more in-depth analysis of projects, and the second being a new Open Data Platform for Public Infrastructure, a user-friendly online tool that categorises data efficiently and allows users to look in-depth at each project. CoST Guatemala is also looking to include both public infrastructure projects as well as Public-Private Partnership projects in its eighth process.