Today we launch our CoST GitHub Repository host of our innovative open-source tools for free use by the data community. By providing these tools and encouraging others to contribute their products, together we can better fulfil our mission to deliver quality infrastructure, stronger economies and improved lives.
Award-winning tools SISOCS and SISOCS PPPs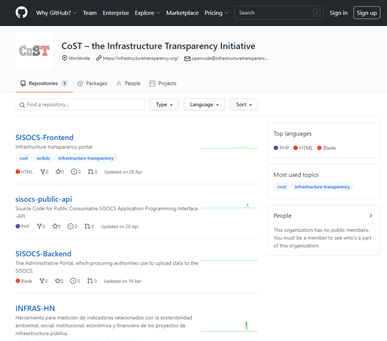 The CoST GitHub Repository includes the award-winning SISOCS and SISOCS APPs (SISOCS PPPs) data disclosure platforms which have heightened transparency on almost 2000 public and public-private partnership (PPPs) projects in Honduras.
These tools have contributed to demonstrable change across the sector and to poor quality projects. In the spirit of sharing, we also release a new paper on the lessons learnt from our experience monitoring PPP projects in Honduras.
If you are interested in using the codes, the repository includes a SISOCS PPPs Documentation guide in Spanish and English which provides useful guidance on front-end installation, how to install certain components (such as the Open Contracting Data Standard extension for PPPs), and what the admin-user end should look like. Similar guidance for SISOCs and indeed all other tools can be found once you click on the tool and scroll down.
In the future we intend to continue adding the tools developed by our members, including a SISOCS data analytical tool which will provide a visual analysis of the infrastructure data disclosed on platforms which use the SISOCS source code in real-time. Through such visualisation, issues in the data that has been disclosed will be clearly seen by platform users – from journalists to civil society to citizens – who can use such information to further accountability in the infrastructure sector.
InfraS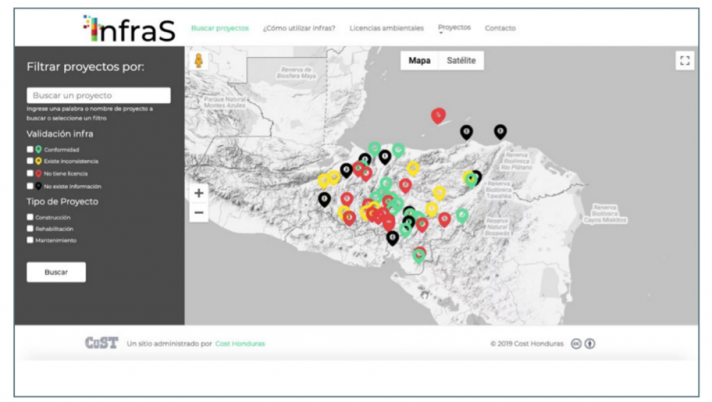 CoST Honduras developed InfraS to understand opportunities to promote sustainable infrastructure in line with the UN SDGs. The platform collects data on the sustainability of infrastructure projects and presents it in an accessible map format. Then users can see important information such as whether a project has an environment licence, if there are discrepancies regarding planning regulations as well as projects which failed to disclose environmental data all together. You can find its source code in the repository here.
Use, improve and add your tools
We welcome contribution from others to add more open-source infrastructure tools to the repository and in this CoST Guide we provide instructions on how to do so.
Furthermore, to help us improve the CoST tools hosted in the repository if you have used and adapted the tools please do share your improvements with us. This could include adding new functionality, making the tool more versatile to support updates, bug fixing or simply improving the user interface. The CoST Guide again details how and the code of conduct to follow when doing so.
Useful links