Ghana currently spends $1.2 billion annually on infrastructure, equivalent to 7.5% of Gross Domestic Product (GDP), yet investment in the country has not delivered full value for money. In public procurement more broadly, inefficiency and corruption is rife and in the infrastructure sector this leads to profound waste and poor quality projects.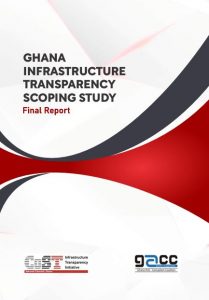 In July 2020, our sub-national member, CoST Sekondi-Takoradi, Ghana commissioned the Ghana Anti-Corruption Coalition (GACC) to undertake a scoping study to understand the level of infrastructure transparency, accountability and stakeholder participation across the country. The study used interviews from across institutions, procuring entities and civil society alongside desk-based research. This week the results of the study were released
Key findings
The study found that through initiatives such as the Open Government Partnership and the Open Data Initiative alongside the more recent Right to Information Law, a favourable environment for transparency and disclosure exists in the country. This presents a golden opportunity for the country to support transparency initiatives such as CoST.
In assessing data disclosure in the sector against the CoST Infrastructure Data Standard (CoST IDS), 58% of the proactive disclosure points (disclosed without request) are currently disclosed and 70% are reactively disclosed (disclosed upon request). Among its recommendations, the study outlines how Ghana should therefore work to address the gaps in the data. Recommendations highlight key aspects of the CoST approach including the use of technology, training and engaging citizens in delivery.
Recommendations to government
To help improve data disclosure., the study recommends that the government expedite the completion of the data platform, the Ghana Electronic Procurement System (GHANEP) which provides a streamlined data disclosure experience and can help to avoid human error. The Ministry of Finance should work towards a more predictable schedule of funding to the procuring entities of infrastructure projects to avoid infrastructure projects being delayed or abandoned.
Recommendations to civil society and the private sector
Civil society should be trained to monitor tender management and contract implementation across the infrastructure delivery cycle. Both civil society and the private sector are key players in taking the lead in advocating for data disclosure in key areas – including tender evaluation and the ownership of firms. Furthermore, civil society could have a key role to play in increasing citizen engagement in infrastructure delivery. Umbrella bodies in the private sector should also consider taking on procurement monitoring activities, including sanctioning members who engage in poor practices.