The CoST programme in West Lombok has officially launched, bringing together guests from across government, the private sector, civil society and academia at an in-person event. After submitting a succesful application to join CoST in 2019, the road to West Lombok's launch was beset by numerous challenges as a result of restrictions caused by Covid-19. However, work can now begin on implementing the CoST approach across the regency with the support of a committed multi-stakeholder group and the Road Traffic and Transport Forum, which hosts CoST West Lombok.
While international travel remains restricted due to Covid-19 restrictions, high-level supporters joined guests  – including the Representative of the Governor of West Nusa Tenggara and the Regent of West Lombok, Mr. Haji Fauzan Khalid – via video link to celebrate the programme's commencement. This included Ginny Ferson of the UK Embassy in Jakarta, who reiterated the UK government's continued support for increasing infrastructure transparency and accountability in West Lombok.
CoST Executive Director Petter Matthews also spoke on the West Lombok Road Traffic and Transport Forum's application to CoST:
The board was impressed by the fact that the Road Traffic and Transport Forum was already adopting aspects of the CoST approach – this convinced them there was a strong desire to improve transparency and accountability. As a consequence, West Lombok became the first CoST sub-national member in Indonesia. This is significant: we know from our experience that it is often the early adopters, those who act as leaders rather than followers, that tend to make the most progress
As the programme launched, CoST West Lombok was also able to unveil a brand-new infrastructure data portal called INTRAS. CoST West Lombok applied for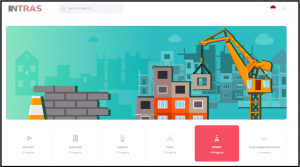 CoST membership with a plan to build on practices of data-disclosure already embedded in the regency, by developing a data portal based on SISOCS on which data is disclosed according to the Open Contracting for Infrastructure Data Standard. With the launch of INTRAS, CoST West Lombok is able to fulfil this ambition, and will now look to expand the types of infrastructure projects which the portal holds.
What's next
CoST West Lombok will engage staff at procuring entities in order to increase the level and quality of data disclosed on INTRAS.  Importantly, the programme will also seek to engage community members on infrastructure delivery and will follow in the footsteps of other CoST programmes by training journalists on technical aspects of the infrastructure sector.
Our work in West Lombok has been made possible with support from the UK Government Prosperity Fund ASEAN Economic Reform Programme through the UNDP project "Promoting a fair business environment in ASEAN".