Back in January 2020, CoST Uganda was awarded funding through the UK Government's Business Integrity Initiative (BII) and launched the programme ''Creating fair business practises in Uganda''. The BII seeks to strengthen emerging markets by combatting issues such as corruption and low-levels of competition, which can otherwise impede private sector investment or participation. CoST Uganda's work through the BII has seen it engage with parliamentarians, bring private sector voices together through webinars and publish in-depth data analysis to illustrate the state of play for private sector participation in infrastructure procurement.
Creating a level playing field 
Spending on public procurement is estimated to account for 60% of the total national budget in Uganda, however a CoST Uganda study shows that levels of competition are low: 51% of projects on the Government Procurement Portal attract fewer than just three bids.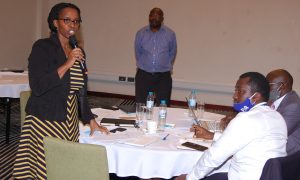 In response, CoST Uganda targeted engagements between the public and private sector to provide a platform for stakeholders to share challenges which hinder healthy competition. As a result of ongoing interaction, there has been an increase in average bids per tender from 7.4 in June 2020 to 12.5 by September 2020.
Increasing local content in service delivery
During one CoST Uganda engagement session, concerns were raised regarding local content provision, with private sector voices calling for reservation schemes (which 'reserve' contracts for national and resident service providers) to include additional sectors. The Government has since reviewed the reservation schemes to include more areas for local providers, and amended the standard bidding documents to include key health and safety, occupational and environmental provisions.
Upskilling journalists to inform and engage
A proper understanding of infrastructure issues allows journalists to uncover major stories around collusion and mismanagement, as well as shining a light on parts of the sector which are otherwise opaque or highly technical. One of CoST Uganda's key outputs through the BII has been to train journalists on these issues, strengthening their capacity to serve as a conduit between government, the private sector and the public.
To date, journalists have published over 30 articles related to promoting fair business practices in Uganda, a number expected to increase as CoST Uganda's fourth assurance report is launched later in 2021. CoST Uganda's 'media team' has now grown to 37 journalists from various media houses who have committed to report on infrastructure projects.
My articles have very much improved in terms of quality and balance. CoST has helped journalists understand the issues we should consider when reporting on infrastructure: how to access data, how to spot flaws in procurement and our role in promoting transparency
Jaramogi Patrick, Investigative Journalist