On Anti Corruption Day 2021 the Dominican Republic announced its membership to CoST, joining us as an affiliate and in doing so demonstrated a firm commitment to infrastructure transparency, participation and accountability.
President of the Dominican Republic, HE Luis Abinader Corona, commended the programme at the official launch:
The principal mandate of our government is the institutionalisation of transparency … By joining CoST we can tell the public how public funds are being spent, complementing our reform of public finance management.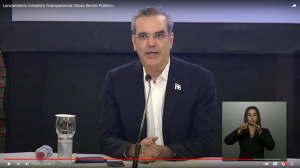 As the programme embarks on its new journey it will add greater scrutiny to high-value infrastructure projects across a range of sectors including education, transport, health, water and energy. Importantly, this includes maintaining existing projects as well as constructing those vital to rural regions of the country such as a grand dam construction.
Across the global membership of CoST we have seen substantive impact in countries as diverse as Thailand, Honduras and Uganda. Central to this has been technology, legislation established on data disclosure and an innovative approach taken by our members and guided by the CoST International Secretariat.
Among its other commitments in joining CoST, the Dominican Republic has pledged to establish a legal mandate on data disclosure and use technology including a new online data disclosure platform and our Open Contracting for Infrastructure Data Standard (OC4IDS). Applying the OC4IDS will ensure infrastructure information is made available instantaneously to stakeholders such as citizens, civil society, and the media. With this they can see where there may be gaps in the data, and to ask why this is the case, furthering accountability. Over time, we are confident that applying CoST in the country will lead to greater data disclosure and impact similar to that of our mature members. We look forward to telling that story.
The programme was launched at the Presidential Palace yesterday. Alongside President Corona, the Director General of Public Procurement, Carlos Pimentel and Director General of Ethics and Integrity, Milagros Ortíz Bosch highlighted the value of joining CoST to representatives in attendance from across civil society, private sector and government. Executive Director of CoST, Petter Matthews explained how the initiative works in practice.
Watch the launch event.