In partnership with USAID, CoST Guatemala has been training young community leaders monitor infrastructure projects, helping to empower youth in Guatemala at the same time as strengthening project oversight and accountability. We are delighted that this work has been showcased by the UN SDGs in a response to its call: Good Practices, Success Stories and Lessons Learned.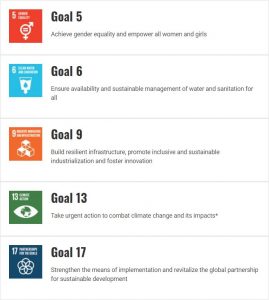 In training workshops youth were taught how to use infrastructure data portals such as the National Public Investment System and Guatecompras, including how to analyse data and identify key issues in public projects. The training also taught attendees how they could best voice their concerns and those of the community.
The workshops cut across several SDGs, including fostering good partnerships by adopting a constructive approach with procuring entities and contractors of projects, female leaders were also identified by CoST Guatemala who encouraged their presence and participation, and the selection of the projects considered areas at risk of the impacts of climate change and extreme weather conditions.
In 2019, 209 young citizens attended the workshops, 72% of whom were women.
Vulnerabilities in water, sanitation and hygiene (WASH) exposed by the pandemic led to a partnership with the Inter-American Development Bank (IADB) to improve WASH infrastructure monitoring certain regions of Guatemala, which was then included as a focus of the workshops. A report capturing the attendees' assessment of the data gaps in the projects is now being used by IADB to identify critical areas in project delivery in the sector and CoST Guatemala has since extended the WASH component of workshops to other communities.
Good collaboration with USAID also ensured the workshop discussions could reach a wider audience, for example, USAID captured the training in its manual on youth social accountability which now includes reference to public infrastructure monitoring. CoST Guatemala can also now share lessons with other CoST members on how proactively involving youth in infrastructure monitoring can help to support the CoST assurance process. The monitors can feed their findings to experts on an assurance team who carry out an independent validation of data and outline key issues which are put into the public domain.
Finding innovative ways to build the technical capacity of a wide range of stakeholders to collect and understand project data is important to ensure accountability is upheld during the crisis and beyond. Equipped with the knowledge and motivation to assess transparency and performance issues in projects, the youth trained in Guatemala can now play a key role in coordinating wider public participation and monitor infrastructure investment delivered in the context of recovery packages.