The disclosure process is focussed on ensuring that information such as the purpose, scope, costs and implementation of infrastructure projects is open and accessible to the public, and that it is disclosed in a timely manner. This means that key stakeholders such as civil society, the media and citizens can monitor this information and ultimately increase levels of accountability around decision making. Key to the process is disclosure by government procuring entities in accordance with the CoST Infrastructure Data Standard (CoST IDS) or the more recently launched Open Contracting for Infrastructure Data Standard (OC4IDS).
The CoST Infrastructure Data Standard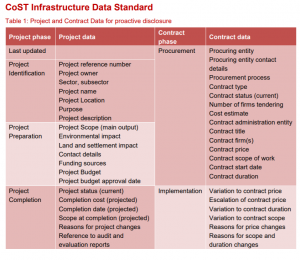 The CoST IDS requires 40 data points or 'items' to be disclosed across the infrastructure project cycle including key stages: identification, preparation, completion, procurement and implementation.
CoST IDS categories: Project data and contract data
There are two types of categories of data included within the CoST IDS – project data and contract data. Project data is data on a project in a specified location, overseen by a single managing entity (project owner) and the budget authority. Contract data is that relating to a legal or officially binding agreement between a procuring entity and a contractor or consultant to deliver the set of project activities.
CoST IDS disclosure types: Proactive and reactive disclosure
The CoST IDS includes two types of disclosure – proactive and reactive disclosure. Proactive disclosure relates to data that CoST requires project owners and procuring entities to disclose 'without official request' at specified stages. The data, in a clear and usable format, is disseminated through a public medium, such as an online portal, that is open and accessible to a wide range of stakeholders.
Reactive disclosure relates to additional information that project owners and procuring entities are required to make available to any eligible person or entity 'upon request'. Reactive disclosure involves making the additional data available to the requesting party in a usable form, in an accessible place and under a specified set of conditions.
Please see the Disclosure Manual and Disclosure Guidance Note for more details on the CoST IDS. Spanish versions of the Manual and Guidance Note are also available.
CoST IDS format
The standard list of data points to be disclosed is formatted to make items concise, consistent and amenable to electronic data processing. This facilitates ready search and access to the data and has become particularly relevant as more CoST members are moving towards the use of online data platforms. With data published in a machine-ready format, it can be easily read by a computer without human interaction and it can be more easily subsumed into existing online systems.
Adaptability is key
The CoST approach is adaptable to country contexts – in line with this CoST provides guidance on the disclosure process but encourages CoST programmes to adapt it to suit local conditions whilst still achieving a credible and substantial level of compliance. For example, the standard list of items outlined in the CoST IDS can be amended to align with country contexts – this may be especially pertinent for small projects or for situations where the effort for the procuring entity needs to be reduced to a minimum – such as in fragile and conflict affected states. For example, the CoST IDS in Guatemala requires 31 points to be disclosed rather than the full 40 points.
A new standard for infrastructure transparency: The OC4IDS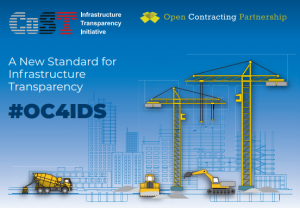 In partnership with Open Contracting Partnership (OCP) and Open Data Services, CoST has developed the Open Contracting for Infrastructure Data Standard (OC4IDS), which standardises the approach to disclosing infrastructure project data based on both the CoST IDS and the Open Contracting Data Standard (OCDS).
The OC4IDS integrates CoST's specific knowledge of what to disclose during the project cycle with OCP's guiding principles of open contracting and open data. It does this by combining contract level disclosure using the OCDS with project-level disclosure based on the CoST IDS.
The OC4IDS promotes the use of online platforms to eliminate data fragmentation and make data available in 'real time'. Doing so gives citizens far better access to information and helps to facilitate more meaningful engagement.
Both CoST and OCP are now working to support CoST members to integrate the OC4IDS into their systems, as well as any other entity with an interest or need to use it. Read more about the benefits of the OC4IDS and the CoST open data journey here.
Reform and innovation catalyse data disclosure
Innovative online platforms
Over recent years we have seen a significant increase in data being disclosed in CoST countries. In 2018 data was disclosed on over 11,000 infrastructure projects in line with the CoST IDS – almost double the amount disclosed in 2017. By 2021, disclosure levels jumped to 19,950, bringing the cumulative total to 57,691. This incline correlates with the increased development of online data disclosure platforms across CoST members and as CoST countries move towards online platform use and incorporation of the OC4IDS we are confident this trend will continue. Click to read more on the impact of these platforms.
Legal mandates on disclosure
In addition to online platforms, legal mandates on disclosure which oblige procuring entities to publish data are powerful catalysts to encourage rapid data disclosure.
In the first instance this is typically done by introducing an 'interim disclosure requirement' on the launch of CoST in a country which provides sufficient authorisation for participating procuring entities to disclose project information for a limited period of time. The requirement should be in place before procuring entities begin disclosure, and once the government has an adequate basis to do so, a formal mandate on disclosure can be established. Legal mandates are invaluable as they allow the longevity of our mission even after a CoST programme ends or if government is changed.
Thus far, CoST has helped to established legal mandates on disclosure in: Costa Rica, Ethiopia, Guatemala, Honduras, Malawi, Panama and El Salvador.
Further information
Please see the Disclosure Manual and Disclosure Guidance Note for more details. Spanish versions of the Manual and Guidance Note are also available.