"It is with great excitement that we announce that Sekondi Takoradi has become the first sub-national member of CoST, which truly reflects our motto 'Nullis Secundi Sumus'. Through CoST improvements in public infrastructure, better infrastructure can be delivered''
The Mayor of Sekondi Takoradi, the Hon. Kobina Kurentsir
Public infrastructure in context
Public infrastructure in Sekondi-Takoradi Metropolitan Assembly (STMA), Ghana is subject to the Public Procurement Act 2003, which stipulates procurement procedures in the country.
Over the years, STMA has performed well with regards to enacting this Act without any irregularities. However, information on public infrastructure such as project details, contract award processes and implementation monitoring has been limited.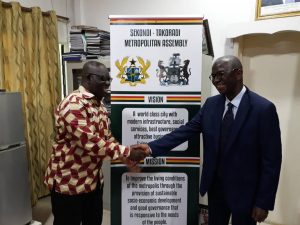 There are inadequate opportunities for citizens to oversee infrastructure projects which has resulted in the delay and cancellation of projects. This has had a knock-on effect on public trust and confidence in officials. According to the Open Government Partnership (OGP), around 70% of citizens in STMA do not understand the procurement processes. They either lack access to infrastructure project documents or are unable to interpret the information in them, which significantly impacts their ability to hold officials to account. With respect to this, the CoST approach focusses on increasing data disclosure on infrastructure projects and turning it into compelling information so that key issues are put into the public domain. This helps to inform and empower citizens.
After reviewing the characteristics of CoST, STMA engaged interest from relevant stakeholders from across government, the private sector and civil society and began its membership application.
CoST STMA, Ghana: How it all began
STMA applied for CoST membership in 2018, and in doing so demonstrated the synergy between CoST and OGP commitments. Enhancing transparency and accountability in the delivery of public infrastructure is one of the core pillars of STMA's Second OGP Local Action Plan, including publishing project information, developing citizen monitoring mechanisms, and adopting the CoST Infrastructure Data Standard (CoST IDS).
The Local Action Plan includes open government commitments involving stakeholders from government, civil society, private sector and the local community.
The clear commitment from political leaders within STMA strongly contributed to the success of its membership application. The actors involved in the application came from across government and civil society organisations and included Mayor of STMA, Hon. Anthony Kobina Kurentsir, OGP Point of Contact, Isaac Aidoo and Solomon Kusi Ampofo, Friends the Nation.
On 13 March 2019 STMA's CoST membership was announced as part of Open Government Week, during which advocates around the world showcase their commitment to open and transparent government.
Both government and non-government actors attended the event including 15 local and national media outlets. A number of high-level speakers were in attendance, including Hon. Anthony Kobina Kurentsir and the OGP Multi-Stakeholder Forum Co-Chair, Victoria Araba Dennis.
Assurance in Sekondi-Takoradi
We promote accountability through the CoST assurance process – an independent review of the disclosed data which is carried out by specific country assurance teams . The teams identify key issues of concern in relation to the items listed in the CoST IDS and put technical jargon into plain language. This allows social accountability stakeholders to easily understand the issues and hold decision-makers to account.
CoST STMA published its First Assurance Report in January 2020, showing encouraging levels of data disclosure compliance amongst procuring entities. The report measured levels of data disclosure in line with the CoST IDS, which, in Ghana, requires a total of 67 data points be disclosed. The report reveals that overall disclosure rates stand at 73%, a positive starting point for the burgeoning CoST programme which can now be improved on. Broken down, the report indicates that proactive disclosure (disclosure made without official request) rates are on average 89.5% while reactive disclosure stands at 54.8%
Disclosure in Sekondi-Takoradi 
The disclosure process ensures that data about the purpose, scope, costs and execution of infrastructure projects is open and accessible to the public, and that it is disclosed in a timely manner.
Implementing the OC4IDS
CoST Sekondi-Takoradi has developed a disclosure portal in response to the growing demand from citizens and other stakeholders for information on publicly-funded infrastructure projects. The portal was officially launched by the Mayor of Sekondi-Takoradi in October 2021, and aligns with the CoST IDS and the Open Contracting for Infrastructure Data Standard (OC4IDS). It was developed through a series of stakeholder consultations and technical support provided by the OC4IDS Help-Desk and the CoST Africa Regional Office.
The portal hosts a growing database of infrastructure projects from seven procuring entities in Ghana's Western Region. To compliment the use of the disclosure portal, CoST Sekondi-Takoradi has initiated the process of designing an Infrastructure Monitoring Tool, which will work both on and off-line, to provide access to real-time data to stakeholders on the progress of infrastructure projects.
CoST Sekondi-Takoradi Assurance Reports