This morning in Kabul, Afghanistan key findings from the CoST Afghanistan First Assurance Report were highlighted at a high-level event attended by H.E. Abdullah Abdullah, Chief Executive, Government of Afghanistan, Petter Matthews, CoST International Secretariat (CoST IS) Executive Director, key representatives from relevant government ministries, the private sector, civil society, media and international partners.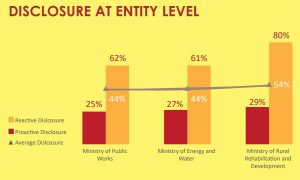 Over 250 in the audience heard how the first assurance process shows that whilst data disclosure by procuring entities is consistent with domestic legal requirements, it is still considerably low when compared against the CoST Afghanistan Infrastructure Data Standard (IDS). This Standard, based on the CoST IDS, requires 63 data points (or 'items') to be disclosed proactively (without request), whilst 27 may be disclosed reactively. On average, procuring entities had proactively disclosed just 27% of the data.
Addressing attendees, H.E. Abdullah Abdullah said, "Making infrastructure transparent is essential and this report is helping to do that, providing us with information on what is happening on all types of infrastructure projects. It helps to ensure people are involved in these large infrastructure projects and they are the real owners of them. The Government of Afghanistan recommends that related ministries and independent authorities be active in increasing a culture of disclosure and sign Memorandums of Understanding with CoST Afghanistan."
The report includes eight projects amounting to $US 150 million which were selected to ensure diversity in their type, size and source of funding. They are overseen by the Ministry of Public Works, the Ministry of Rural Rehabilitation and Development and the Ministry of Energy and Water. Representatives from these ministries, alongside the Ministry of Transport and Minister of Urban Development and Housing attended the launch, hearing the overall picture of data disclosure and more specific causes of concern and areas of good practice.
Areas of concern: Time and cost overruns
A key issue highlighted in the report includes project time and cost overruns where the average cost overrun of projects was 18% and the average time overrun was 119%. These issues were originally reflected in the CoST Afghanistan Scoping Study published last year which highlighted them as major challenges in infrastructure project delivery.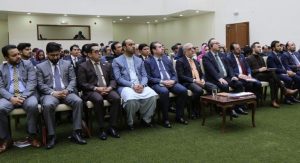 To further explain the causes of cost and time overruns, the assurance report attributes these concerns to issues found in the preparation stage of projects, including incomplete survey, design and tender documents which was particularly evident in the road projects included in the process. The team also attributed overruns to a lack of coordination between the project designer, survey team, coordinator and most importantly, due to a lack of technical capacity of procuring entities and contractors.
"The findings indicate serious problems in the project preparation stage and procuring entities are urged to take necessary measures to improve the situation by building their capacity and focus efforts on addressing them," said H.E. Abdullah Abdullah.
A need for open contracting in infrastructure
The report highlights open contracting as an issue, giving rise to concerns on tender fairness and how contracts were awarded, monitored and managed. The Public Procurement Law which sets about to rectify these and other issues was disregarded unintentionally and in some cases it was explicitly ignored. For one project, work on the Kabul to Logar Asphalt road, the tendering period took 30 months and for another project, the Salang Tertiary Road only two bidders tendered for the project.
Recommendations
To address the key issues raised, the report recommends that procurement entities should either develop a national portal for disclosing data on infrastructure projects in accordance with the CoST IDS or to expand on existing portals such as the current disclosure platform of the National Procurement Authority.
Importantly, the report calls for the establishment of a legal mandate on data disclosure aligned with the CoST IDS which could be done through the Public Procurement Law. To address the issue immediately, the report recommends procuring entities take more initiative in disclosing data on projects.
What can we expect in the future?
Whilst the findings of the report highlight some major areas to be addressed, procuring entries are demonstrating a commitment to improving infrastructure transparency. The first assurance process shows an increase in data disclosure when compared to previous years.
Looking forward it is likely that disclosure rates will continue to increase, as recommendations from the report are taken on board and as Afghanistan ministries continue to commit to disclosure.  At the launch event it was indicated that CoST champion and Minister of Economy, H.E. Dr Mustafa Mastoor will push forward commitments by advocating for Memorandum of Understandings signed between CoST Afghanistan and relevant ministries, beginning by raising the issue in the Afghanistan Cabinet. These agreements would add to existing commitments between CoST Afghanistan and the Ministry of Public Works and the Ministry of Rural Rehabilitation and Development.
CoST International Secretariat Executive Director, Petter Matthews said: "There is still much to do and many challenges to be faced, but this report and the seriousness with which the top level of Government is treating it – as evidenced by the participation of HE Dr Abdullah this morning – gives me cause for optimism. We pledge ourselves to continue to support your efforts. Like you, we are in this for the long-haul."
CoST Afghanistan will now begin preparations for its Second Assurance Report, initially by looking at the infrastructure projects to be included within this.
Download the CoST Afghanistan First Assurance Report.
Download a visual infographic presenting key messages from the report.