In its Sixth Assurance Report CoST Ukraine finds a high level of infrastructure data disclosed across key stages of the infrastructure project cycle, with an average of 98% of data disclosed by the procuring entity reactively (data disclosed upon request). The data was disclosed on two major road overhaul projects in the country's capital Kyiv which will improve congestion, connectivity and the roads' environmental impact.
The report follows a commitment signed two years previous by the procuring entity of the projects, Kyivavtodor, Kyiv City State Administration and CoST Ukraine. The successful implementation of the projects, and the high level of disclosure is a significant step towards enabling increased infrastructure transparency in Ukraine.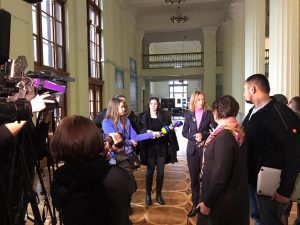 To draw attention to this and other findings, the report was launched today at a high-level event held at Kyiv City Council. Here, government, private sector, civil society and media representatives heard from Kyiv City Mayor, Vytaliy Klychko, CoST Ukraine Country Manager, Slava Abramov, Deputy Minister for Infrastructure, Natalie Forsyuk and Head of Kyivavtodor, Oleksands Hustelev.
Addressing attendees, Vitaliy Klychko said:
"One of our key objectives is to build and repair roads of high quality, but at the same time this process has to be transparent. Each and every citizen of Kyiv needs to know the who, when, where and to be given information on how their taxes are being spent. It is for this reason that we decided to cooperate with CoST Ukraine. We are strongly convinced that all roads repaired in Kyiv have to be under independent control, all information has to be disclosed and be available online for people to easily access. Today CoST presents its assurance report on two pilot projects, but I hope that all roads projects in Kyiv will be put under their control."
In addition to disclosure improvements, other areas of good practice include how Kyivavtodor has reacted to CoST recommendations during the assurance process. For example, Kyivavtodor followed the advice of the CoST Ukraine Assurance Team and created a new department to improve quality assurance and verification of project documentation. Another recommendation it acted upon was the introduction of modern technology demonstrated by its installation of tram tracks on one of the projects which has helped to reduce noise pollution in the surrounding area.
Whilst there is cause to celebrate the improvements seen through the sixth assurance process, several areas for improvement are drawn on in the report to enable better infrastructure delivery. Some of these include:
Data gaps on the environmental impact of the projects
A low level of public participation and consultation
Missing information on the expected level of noise pollution
Limited risk mitigation, leading to increased construction outside of the project design and a time overrun of five months.
Taking these findings into consideration, to improve public participation the report recommends a need to focus on engaging public opinion through participatory events such as public hearings. It also recommends addressing resource gaps in Kyivavtodor by using independent consultants and creating a specific body within the entity to help rectify project design and quality control concerns in particular.
The positive example shown by Kyivavtodor offers the opportunity to enable a more transparent and accountable infrastructure sector in Ukraine. CoST Ukraine welcomes other Ukrainian cities to follow the Kyiv example and collaborate with the initiative, helping to increase the data disclosed on infrastructure projects and augment accountability in the process.
Useful links
CoST Ukraine Infographic Summary [In Ukrainian]
CoST Ukraine Sixth Assurance Report [In Ukrainian]
More on CoST Ukraine