This week CoST joined a high-level panel for the release of the World Bank's Global Stocktake of Developments in Public Procurement.  The report marks a clear shift away from viewing procurement as a purely transactional process and shows a growing multi-lateral recognition of the synergies between business and social economic objectives.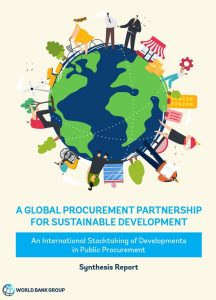 CoST Board Chair, Chrik Poortman brought his expertise in infrastructure governance to the event. He highlighted the role of the sector in the discourse to improve public procurement, given that the IMF and cost experience shows that up to a third of investment in the infrastructure sector is lost to inefficiencies.
Chrik welcomed the report's focus on development goals, to ensure participatory processes, and the ambition of the body overseeing the report – the Global Procurement Partnership (GPP) – in coordinating and collaborating to reform procurement. Furthermore, the report's focus on value for money and digital solutions will no doubt have a positive impact on public infrastructure.
These aspects have been key to the transformative improvements we have seen at CoST. The collaboration and participation enabled by our multi-stakeholder approach has ensured all actors understand and use project data to hold decision-makers to account. Chrik emphasised that:
Establishing transparency is not easy, but when government works with partners its efforts will be more successful and the impact more likely to be sustained.
A collaborative effort in the GPP will also be key, as will careful planning and realistic steps to make the ambitions of the report come to fruition. Close partnership is not only needed between the governments of the GPP but with partners such as CoST, funders and other procurement reformers.