The UK and Spanish Governments have both committed to infrastructure transparency as part of their Summit for Democracy commitments.
Organised by the US Government, the first Summit for Democracy was held in December 2021 and provided a platform for leaders to announce both individual and collective commitments, reforms, and initiatives that defend democracy and human rights at home and abroad.
As part of its commitments to build back better, the UK committed to increasing its financial support for CoST stating that infrastructure transparency incentivises "more efficient and accountable use of public finance for infrastructure, supports open and competitive procurement and enables journalists and civil societies to hold government to account."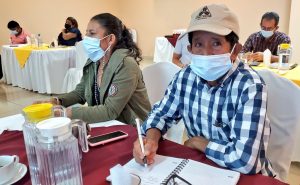 Throughout the pandemic, CoST members such as in Guatemala, Honduras, and Malawi have continued to do exactly that with over 4,800 journalists, activists and citizens trained in 2021 more than any previous year. Whilst CoST Uganda facilitated a dialogue between government and the private sector that built trust, enabled procurement reform, leading to more firms bidding for construction contracts.
The Government of Spain has committed to transparency as part of the common values and existing standards that will help to deliver quality infrastructure services as part of its investment in Latin America and the Caribbean.
In welcoming these commitments, John Hawkins, Programme Director said, "CoST like many charitable organisations has experienced some tough recent times. This commitment from the UK to increase its financial support for CoST is extremely welcome along with its assistance in engaging partners to ensure we are on a sustainable footing. We also welcome the commitment from Spain with transparency critical to the values and standards that will deliver quality infrastructure services that meets peoples' needs."
At the Summit, CoST held high-level panel discussion where speakers from Bechtel, Mott MacDonald, PwC and Marhnos Construction reflected on the impact of corruption on business and the users of infrastructure, the challenges ahead and how they can be managed.