The role of the government in enhancing infrastructure transparency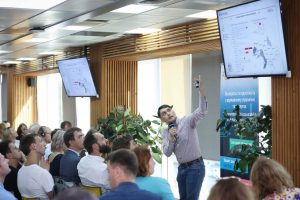 Government procuring entities are key players in the CoST process and their full cooperation in the programme is essential. They have overall responsibility for identifying and delivering infrastructure projects and as such they play a lead role in the disclosure of project data.
Why is CoST beneficial to procuring entities?
CoST works closely with procuring entities to build a more reputable and efficient sector. The four core features of CoST give procuring entities the opportunity to:
Demonstrate that they conform to high levels of infrastructure transparency
Build public confidence particularly in the procurement process and by showing their cooperation with the private sector and civil society for public benefit
Reflect on where their general performance can be improved
Improve information management procedures that strengthen infrastructure project management
Help facilitate their response to an audit process.
Working with advocates in government
We work with key influencers within government who recognise the full benefits of CoST and who play a part in enabling their country to join us. These influencers can also help to establish legal mandates on disclosure, influencing government authorisation on increased disclosure requirements and their incorporation into relevant regulations and government procedures.
We keep elected or appointed officials – ministers, senior civil servants or council leaders – briefed on how the CoST national programme within their country is advancing infrastructure transparency and its full benefits for improving the reputation and efficiency of the sector.
Our liaison with officials begins even before CoST implementation in a country, working with key advocates in government from the preparatory stages, through to CoST adoption and then to its continued expansion throughout the country. This ensures that politicians and officials buy-in to CoST from the outset and are more likely to push legal and policy reforms forward.
Role of the 'CoST Champion'
The role of the 'CoST Champion' – which focusses on promoting and institutionalising CoST across government – is often key to ensuring uptake across government. The appointment of Malawi's former Vice President Saulos Klaus Chilima as CoST Champion in 2014 led to the inclusion of CoST in his Public Sector Reform Commission, which championed the reforms deemed necessary to improve public sector service delivery. Later in 2017, support for CoST was institutionalised after Parliament passed a revised Public Procurement and Asset Disposal Act, which provides a legal mandate to disclose data in the CoST Infrastructure Data Standard format. Most recently, the President of Malawi, His Excellency Dr. Lazarus McCarthy Chakwera (right), was appointed as the new Champion of the Malawi programme.
Building capacity across government 
Once CoST is established, training procuring entity and government officials on implementing the CoST approach is crucial to the programme's success. As of 2021, CoST teams have trained over 6370 government officials around the world. Our achievements in 2019 include the launch of a training programme by CoST Ukraine which empowers Ukrainian government bodies to combat corruption, whilst dampening the public's tolerance of it. Whilst in Latin America, CoST members from Costa Rica, El Salvador, Guatemala, Honduras and Panama joined together at a regional workshop where government and other representatives shared successes, challenges and the necessary reforms to mitigate them.
Useful links
Representatives from government and procuring entities who are interested in joining CoST can find out more here.
For guidance materials on implementing CoST click here.