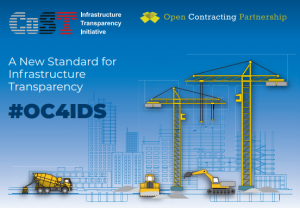 Tomorrow marks Open Data Day, an annual celebration of open data globally. In the spirit of the Day, we reflect on how the Open Contracting for Infrastructure Data Standard (OC4IDS) is helping CoST members to move towards more effective infrastructure project monitoring.
In Honduras, procuring entities publishing data on the SISOCS and SISOCS APP platforms must now disclose information according to the OC4IDS, which standardises the approach to disclosing infrastructure project data based on CoST and Open Contracting Partnership (OCP) expertise. As such, previously siloed information about Honduras's infrastructure sector will be connected to create a clearer, fuller picture. Implementation of the OC4IDS in Honduras means projects published on the SISOCS and SISOCS APP platforms will be subject to greater scrutiny and public oversight.
Combined, the platforms hold information on over 1850 projects, with those published on SISOCS valued at approximately US $1 billion (25 billion lempiras) and the public-private partnerships on SISOCS APP valued US $1.27 billion (31 billion lempiras).
Strengthening accountability in infrastructure investment
Data portals such as SISOCS are crucial to monitoring how, where and why investments are being made, and are key tools used by journalists – such as Honduras's Alex Flores – to uncover instances of bad-practice. Citizens, civil society, journalists and others seeking accountability in infrastructure financing in Honduras will now have access to better quality information about these high-value investments.
CoST programmes beyond Honduras are also making firm progress towards implementing the OC4IDS. For example, CoST Ukraine is developing detailed guidance for the state road agency, Ukravtodor, on disclosing data in line with standard. Meanwhile CoST Panama is in talks with Panama's Procurement Agency to kickstart implementation, and CoST Sekondi-Takoradi, Ghana, will shortly be launching a disclosure portal incorporating OC4IDS data points.
OC4IDS: linking contract and project level disclosure
The OC4IDS integrates CoST's specific knowledge of what to disclose during the project cycle with OCP's guiding principles of open contracting and open data, combining contract level disclosure using the Open Contracting Data Standard with project level disclosure based on the CoST Infrastructure Data Standard. The standard encourages better disclosure of infrastructure data and enables stakeholders to better monitor the development of public works in 'real' time, giving citizens far better access to information and helping to facilitate more meaningful engagement. It also provides guidance to governments on what information to disclose at each stage of an infrastructure project so that public funds are well spent from planning to completion of works.
CoST Honduras will mark Open Data Day with an interactive session on open-data in infrastructure, showcasing tools such as OC4IDS and InfraS. More details and registration can be found here.