Since the launch of CoST in 2012, we have seen the significant impact the initiative has had on providing better value for money from public infrastructure projects. Our story of change has deepened at international and national levels particularly over the last two years.
Spreading CoST globally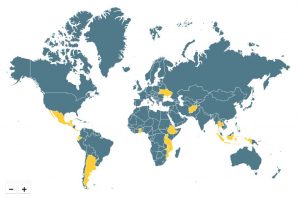 Our current members span four continents and include five Fragile and Conflict-Affected States. Demand for CoST continues to grow worldwide – in 2019 we welcomed six new members and one affiliate member to the initiative. These members had submitted successful implementation plans to join us, which, alongside their public launch events demonstrated a firm commitment to making the infrastructure sector more transparent and accountable in each context.
Scaling up data disclosure
Over recent years we have seen a leap in the number of infrastructure projects on which data has been disclosed in CoST countries. In 2017 CoST helped to disclose data on 6,356 projects, in 2018 this number had almost doubled to around 11,000.
Key to this augmentation has been the development of innovative online platforms with the year 2018 especially demonstrating this correlation:
Three Afghan ministry portals launched with CoST support in 2018 saw data disclosed on 1892 projects by the end of the year.
CoST Ukraine launched its platform in January onto which 1285 projects were disclosed by October.
On the pre-existing Guatecompras, data was published on 4686 Guatemalan infrastructure projects by the year end – an average of 390 projects per month – a significant amount when compared to 2014 which saw an average of 60 projects disclosed per month.
Enabling systemic change
To support the CoST disclosure and other CoST processes we work to institutionalise infrastructure transparency through legal mandates. These are typically achieved by amending existing legislation or by ministerial decree.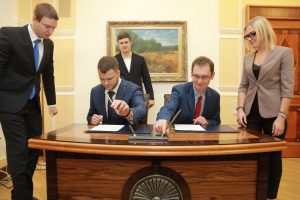 So far seven CoST members have established legal mandates on disclosure, with Panama being the most recent to do so by amending its Public Procurement Law. Good progress is also being made by CoST programmes in Afghanistan, El Salvador, Uganda and Ukraine who have signed various commitments with government.
CoST tools set international standards
CoST uses two standards as part of its disclosure feature. The first, the CoST Infrastructure Data Standard (CoST IDS), requires 40 data points (or items) to be disclosed at key stages of an infrastructure project cycle. The second, the Open Contracting for Infrastructure Data Standard (OC4IDS), specifies requirements on open contracting and project data through innovative online platforms. Both standards have received broad international recognition.
The CoST IDS: Strong support shown through implementation and use in key global tools
Over 20 countries have applied the CoST approach in contexts as varied as Afghanistan, El Salvador, Thailand and Ethiopia. And the CoST IDS has been used in the following tools:
The OC4IDS receives G20 recognition
The OC4IDS, launched in 2019, is now undergoing its transition in CoST countries who will incorporate it in their online platforms and move towards more standardised data disclosure. Ukraine and Honduras have been leading the way in OC4IDS application, and recently CoST Ukraine signed an agreement with government that its online platform will be transferred to the Ministry of Infrastructure to ensure wide use across government.
In 2019 the G20 endorsed the CoST approach to tackling corruption, mismanagement and inefficiency throughout the infrastructure project cycle in an annex to the Leaders' Declaration which was released during the 2019 Leader's Summit in Osaka.
Infrastructure Transparency Index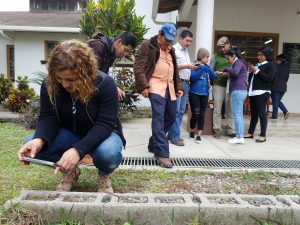 Recently we have been piloting the CoST Infrastructure Transparency Index (ITI) which assesses infrastructure transparency in national settings by ranking the transparency of procuring entities on an individual basis. These rankings can be aggregated to show how transparent particular sectors and governments are, and so once fully evolved, the ITI can provide a strong incentive for procuring entities and governments to improve their ranking. So far we have piloted the ITI in Honduras and Guatemala and we will be looking at its wider level roll out in 2020.
International influencing
Promoting infrastructure transparency requires close collaboration with stakeholders from across government, private sector and civil society and so our approach to global influencing takes this into consideration. We advocate on how our way of working delivers better infrastructure across three different communities, helping to bridge the gap between them and ensure key global influencers support our work. The annual forums and events of each community are an effective means to influence and most recently we influenced the agenda of events across: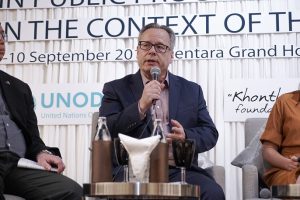 The infrastructure governance community playing an active role at: the World Bank's inaugural Infrastructure Governance Roundtables in 2017 and 2018; the OECD's Infrastructure Governance Forum, Integrity Week and Public Procurement Week 2019, UNDP events in Southeast Asia and events organised by the development bank of Latin America (CAF) and the Inter-American Development Bank. In addition, we were delighted to Chair the C20 Infrastructure Working Group (IWG) 2019 – the core civil society influencing group of the G20 IWG Japan Presidency 2019.
The open government and open data community joining up with Hivos on civic participation at the OGP Summit 2019, seeing CoST Honduras win first place at the Taiwan Presidential Hackathon, and joining TI's event on tackling corruption through integrity pacts.
The construction sector industry participating at PIARC Abu Dhabi 2019 where CoST presented its approach to integrity in the road sector, and at FIDIC Mexico 2019, where, following our participation the body endorsed the CoST approach on Anti-Corruption Day 2019.
For more on our global and national-level impact: 

CoST 2019 Annual Report
The CoST Annual Report 2019 illustrates the depth and breadth of CoST impact during a year in which CoST membership grew, disclosure rates continued to increase and CoST members developed innovative tools to glean real insight from infrastructure data. As CoST programmes have matured, infrastructure decision makers have become increasingly aware of the high standards delivered through CoST, and ever-more receptive to assurance recommendations as a result. 
CoST 2018 Annual Report
The CoST 2018 Annual Report showcases the growth in CoST impact throughout 2018 at both a national and international level. Thanks to the use of innovation and technology, we saw significant increase in disclosure among CoST members countries, with data on over 11,000 projects disclosed – almost double the amount of 2017. CoST assurance has continued to transform this into compelling information, which multi-stakeholder groups have used to undertake deeper engagement with procuring entities.
CoST 2017 Annual Report
The CoST 2017 Annual Report highlights our achievements made in 2017 across our core features. These include disclosing data on 6,356 infrastructure projects, a 67% increase on the amount published in 2016, and more than doubling the number of infrastructure projects independently reviewed. Training was provided to build the capacity of 2000 individuals from civil society and the media, government and private sector who participated in over 80 CoST events worldwide.